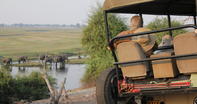 Chobe National Park, located in the north eastern district of Botswana is home to the largest elephant population in the world. Chobe National Park can be accessed by picturesque road or air transfers, where spectacular views of the bush are observed. The renowned Chobe River forms the border of this reserve.
Chobe National Park is considered one of the best national parks for in the world for game viewing. Exciting Chobe safari game drives are conducted daily to view the abundant wildlife of Chobe. Excellent tiger fishing opportunities lie within the Chobe River.
The area is perfect for Botswana safari holidays, romantic celebrations and family fun. Chobe National Park can be a great base destination for African safaris as it is 100 km from its north-east entry gate to Victoria Falls and Livingstone.
A list of Chobe safari destinations and packages follows below.