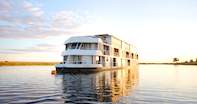 Zambezi Queen is a Chobe River based luxury safari houseboat that takes guests on an epic journey to view big game and experience the rich local culture.
Safari excursions by boat
Luxury houseboat accommodation
Cultural tours
Fishing excursions
Zambezi Queen is river-based safari boat that cruises down the wonderful Chobe River and invites guests to a unique and luxurious game viewing experience. Accommodation at Zambezi Queen is in 14 luxury suites that all feature stunning views of the Chobe River and the diverse wildlife.
Unlike traditional Botswana safari lodges, at this Chobe River houseboat guests can sleep in late and enjoy a hearty breakfast in the dining room. Game excursions at Zambezi Queen are by tender boats, giving guests unique Chobe wildlife sightings. Each river cruise is conducted by a trained and professional game guide. Leisurely afternoons are spent fishing, birdwatching, or taking a refreshing dip into the plunge pool.
Meals are served 3 times a day - breakfast, lunch, and dinner. The mouthwatering cuisine is prepared by professionally trained staff, and all flavoursome meals are prepared using only the freshest ingredients. Learn more about the local culture and purchase one-of-a-kind crafts during a cultural village tour.