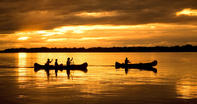 The Zambezi River runs throughout 6 countries in Africa, and is the fourth largest running river on the continent. Access to this area is via road or air transfers, for guest who want to see the river's most remarkable characteristic - the Victoria Falls. Tourists flocks to the Zambezi River to delight in aquatic activities and exciting game viewing opportunities.
At the Zambezi River in Zambia, water based activities include white river rafting, river surfing, and many more. Among extraordinary wildlife that inhabit the area along the Zambezi River are elephant, hippo, crocodile, rhino, giraffe and antelope.
Zambezi River accommodation in Zambia is offered at luxury lodges that each feature their own modern amenities. Activities in Zambezi River include game drives, bush walking safaris, canoeing, community tours and horseback riding.
See below for Zambezi River safaris in Zambia.