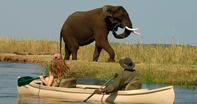 Got a bit of the pioneer in you? Looking for a friendly welcome and a superb safari off the beaten track? Here are the top reasons to go on safari in Zambia and discover the real Africa - wild and untamed.
Safaris for Africa
Zambia offers an idyllic environment for a great range of safaris - there is something for everyone! Apart from traditional game drives, you can take part in the original walking safari. On foot with your guide and scout you'll track game through the bush on half day or multiple day adventures.
For the specialists, birding, fishing and photographic safaris are a must in Zambia - highly personalised and a great way to become an expert. For something really out of the ordinary you can also enjoy Elephant Interaction, Horseback and Quad Bike Safaris through the bush - unforgettable! If you enjoy being on the water then how about a canoe safari, passing wildlife and beautiful scenery as you paddle along?
Victoria Falls Combo
There are waterfalls countrywide, but Victoria Falls is the biggest and most well known. This massive curtain of water has been called a natural wonder of the world and justifiably so - it is breathtaking and quite glorious to see in full flow. The roar of the falls and the smoke from the thundering waters can be perceived from a great distance away.
Combine this World Heritage Site with an exciting safari and you have the perfect holiday for the whole family. You can do it all and much more besides when you visit the historic town of Livingstone in Zambia - the adventure capital of Africa.
Crowd-free National Parks
On safari in Zambia you will get a taste of the real Africa - wild and untamed. Some of the national parks are best kept secrets and offer high concentrations of game and spectacular birding. You'll be miles from anywhere but a range of excellent lodges and camps meet the needs of today's travellers.
Zambia National Parks making their mark include Kafue, Lower Zambezi, South Luangwa, Nyika and Liuwa Plains. Birders will love Blue Lagoon, Bangwelu Floodplains (Shoebill Stork), Kasanka and Lochinvar.
Wet and Wild Adventures
Standby for unforgettable water adventures in the wilderness! With such rich water resources Zambia is heaven for all manner of water activities. Game viewing from a canoe or boat is one of the most relaxing ways to see wildlife on safari, so sign up for houseboating holidays, sunset cruises and canoe safaris. Discover huge lakes including Kariba and Lake Tanganyika and explore mighty rivers such as the Zambezi, Luangwa and Kafue on safari.
Tiger Fishing and Fly Fishing are excellent but if that is too tame then how about adrenalin sports on the Zambezi River? If scuba diving is your thing then combine a safari with a visit to Lake Tanganyika, where you can dive with hundreds of tropical fish found nowhere else in the world.
Get a Natural High in the Wild
Enjoy exciting safaris on the Upper and Lower Zambezi River and then round off with a visit to Livingstone, the adventure capital of Africa on the Zambian side of the Victoria Falls. From this historic town you can access an incredible range of high adventure activities and do them all back to back if that is your wish.
Prepare yourself for heart stopping white water rafting, kayaking, jet boating and river surfing, bungi jumping, abseiling, rock climbing and gorge swinging. In the air you can fly over Victoria Falls and capture the most amazing pictures of the falls and Batoka Gorge.
Learn More With Our Zambia Safari Guides