Types of Zambia safari packages are many and varied and while some are fairly laid back, the adventure type Zambia safari tours require a certain level of fitness.
Walking Zambia Safari Tours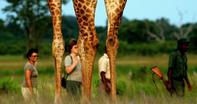 Walking safaris usually start at the crack of dawn with the sound of birds calling. Your guide will show you the paw prints and markings of the wildlife who moved through the bush during the night. You might even find wildlife along the walk.
For your own safety make sure to listen to your guide at all times. On the walk you will learn how the wildlife lives and how to track them. Walking safaris are usually available from the lodge you stay at.
Birding Safaris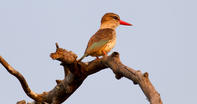 Some of the best bird species concentrations can be found in Zambia. The usual bird lover and the Ornithologist will love what they see on a Zambia safari packages. Armed with binoculars and a checklist, you float along the river in a canoe spotting some of the birds.
Canoeing Safaris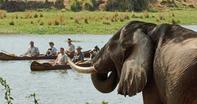 This is one of the most rewarding ways of viewing wildlife and taking note of the environment at large. There are so much breathtaking scenery and so many interesting wildlife species having a drink at the rivers. The three best options are the Lower Zambezi River, the Upper Zambezi River and the Luangwa River.
Guided Mobile Safaris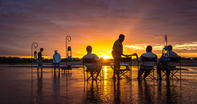 This is the type of safari that was experienced by the first pioneers of Africa. Mobile Zambia safari tours show you the real wild African bush and wilderness. You will be met at the airport in an open safari vehicle and taken into the bush where you will stay the night at a bush camp.
From game drives, to canoeing and walking, you will experience nature in all her splendour. You will see a wide variety of wildlife, from predators to prey. Most mobile safaris can be tailor made to suit your specifications.
Open 4x4 Safari Vehicle
Open safari vehicle safaris are conducted by most camps and lodges. The vehicles are well equipped and comfortable for the time you will spend moving through the bush. You can even go on night game drives and watch the predators hunt on your Zambia safari package.
Photographic Safaris
While staying at a lodge or on a game drive, you will have some great photographic opportunities. Zambia has naturally great lighting and the colours are amazing during the morning and early evening. There are Zambia safari tours for photographers specifically. There will be lectures about the area and how to use your camera for the best photos. Make sure to bring a camera with a zoom lens of 200mm or longer.
Zambezi River Tours on the Lower Zambezi River and excursions to Lower Zambezi National Park in Zambia....
more
Discover Zambia with Siyabona Africa. Our safari tours and packages showcase South Luangwa, Zambezi River and Victoria Falls....
more