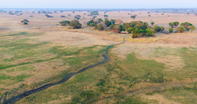 Zambia in southern Africa truly does offer a singularly authentic experience of the African wilderness in and among its 750 000 square km. Zambia has about 20 National Parks, 30 Game Management areas and numerous private and state-run reserves, offering an amazing Zambia safari experience. Two great African rivers, the Zaire River and the Zambezi River, thread their way for 2 500 km to the Indian Ocean embracing en route two of Zambia's outstanding features - the majestic Victoria Falls and the vast man-made Kariba Lake.
Zambia's wilderness areas are undiscovered gems that have remained raw and pristine. A select number of Zambia safari lodges are dotted throughout this magnificent country, in parks such as the world-famous, wildlife-rich Southern Luangwa, the rugged and wild North Luangwa, and the second biggest reserve in the world, Kafue. The Lower Zambezi National Park, Lochinvar and Liuwa are being increasingly developed, and are a birder's delight, with superb wildlife viewing on offer.
The capital of Zambia is Lusaka; English is the official language and the Zambian Kwacha is the local currency. Zambia is two hours ahead of GMT. There are 3 distinct seasons - cool and dry from May to August; hot and dry from September to October; and rainy between November to April. August to October are the best months for wildlife viewing. From November to April most of the national parks are closed.
See below recommended Zambia safari tours and lodges in the best Zambia safari destinations.