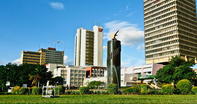 © Matthew Grollnek
Lusaka is the capital of Zambia and is located in the southern region of the country's central plateau. This Zambian city is ideal for an overnight stay before exploring the other spectacular attractions on a Zambia safari, and can be accessed by road or air transfers.
Lusaka is one of the fastest developing cities in Southern Africa. In Lusaka, visitors to this developing city can stroll through the markets for one-of-a-kind souvenirs and other unique finds. In Lusaka, the everyday city life can be observed while visiting restaurants, fishmongers, fruit sellers and hairdressers.
Lusaka accommodation in Zambia is offered at hotels and bush camps. Activities in Lusaka include suburban safaris, shopping and sightseeing.
See below Zambia safari tours departing from Lusaka.