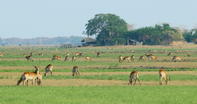 Kafue National Park is the largest park in Zambia, and the second largest in all of Africa. The park is located in the centre of the country and can be accessed by a road safari, yet a small number of tourist get to experience this enchanting park. Wildlife flock in abundance and can be spotted while driving on the main road of the park.
Kafue National Park is home to a diversity of wildlife and an unforgettable Zambia safari can be experienced in the park. The frequent roamers of the park include the African Big Five and rare species of antelope. Kafue National Park is renowned for being one of the best destinations to track leopard in Africa, and late afternoon to night game drives are perfect to spot them along with other predators.
Kafue National Park accommodation in Zambia is offered at luxury game lodges and bush camps. Activities in Kafue National Park includes game drives, birdwatching, fishing and boat cruises.
See below for Kafue National Park safari recommendations in Zambia.
Enjoy a superb wildlife safari in Zambia at Busanga Bush Camp in Kafue National Park where the open plains will introduce you to magnificent wildlife...
more
Nanzhila Plains Safari Camp is located in Kafue National Park and invites guests to a true African wilderness experience....
more