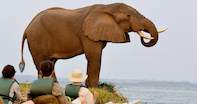 This deluxe tour of the Lower Zambezi National Park accommodates you on the banks of the Zambezi River for 6 days during a relaxing Zambia escape with the best of the bush and river.
Zambia Safari Package Highlights
Accommodation: Tented suite and bush chalet
Activities: Game drives, guided bush walks, river safaris, canoe excursions, viewing hide, photographic safaris, alfresco dining
Destinations: Lusaka, Lower Zambezi National Park, Lusaka
What you can expect on this Zambezi River safari in Zambia
During this 6 day tour in Zambia, you will be accommodated in two safari lodges, both nestled on the banks of the Zambezi River. Benefiting from an abundant wildlife roaming in the middle of an unoccupied wilderness, you will be exposed to nature at its finest without even leaving the lodge grounds.
The luxury safari lodges in Zambia are seasonal - operating only from mid-April to mid-November, when the weather is at its best. The dry season is superb for game viewing as the rains have stopped and wildlife can easily be found occupying the bodies of water. This is the ideal time for river safaris and canoe excursions. Alternatively, explore the bush the traditional way - during game drives or guided bush walks.
Day 1: Lusaka - Lower Zambezi National Park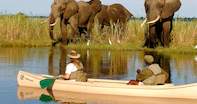 At Lusaka Airport, you will board a flight to a bush airstrip and then a short road transfer will deliver you to the boat crossing point. A 20-minute motorboat trip down the Zambezi River will be your first water-based game viewing safari and will deliver you to the seasonal Chiawa Camp. Drop your bags off in your suite and head out to watch the wildlife from a viewing hide, offering an eye-level view of the active bush.

After an uninterrupted game viewing experience, return to the main lodge area where you can take a dip in the plunge pool before enjoying an afternoon tea at 15:30. After the teatime treat, an afternoon game drive will continue into the night, returning at around 20:00.

After witnessing the lifestyles of the nocturnal creatures, you will enjoy a 4-course dinner and post-dinner drinks. Return to your comfortable suite for a peaceful night's rest.
Day 2 - 3: Lower Zambezi National Park
An early wake-up call will lead to a warm cup of coffee or tea and a light breakfast around a campfire, all before the sun rises. You will then embark on either a morning game drive or a guided bush walk for some spectacular wildlife encounters. Possible wildlife sightings include a variety of antelope, elephants, zebras, lions and hippos by the river.

Bush walks allow you to track the spoor left in the bush and with the help of your trained guide, you will identify the animal behind the prints. Walks are also the opportune time to learn more about the insects, plants and birds of the bush. Return to the lodge at about 11:00 and enjoy a hearty brunch before spending their free time as they please.
Afternoon tea will symbolize the start of the afternoon's activities either a game drive after tea, a fishing trip, or an exhilarating canoe trip or boat cruise down the Zambezi River. Fishing trips on the Zambezi River operate according a strict catch-and-release policy. Your guide will position the boat in a prime spot to maximize your chance of catching an aggressive tiger fish.
Drift silently past the hippos and crocodiles lazing on the river banks or frolicking in the water, witnessing their natural behaviour without disrupting their everyday lifestyle. Canoe trips depart at around 14:30 and return before sunset for sundowners around a campfire, or you can choose to go on the night drive instead.Alternatively, boat cruises take place in a pontoon boat whose canopy can be raised or lowered. Your expert guide will navigate the boat past the various islands and water channels, delivering you to possible sightings of fish eagles, crocodiles, hippos and even elephants crossing the river. After enjoying sundowners on the water, you will make your way back to the lodge, where you can choose to go on the night drive or stay at the lodge and wait for dinner.
Afternoon activities will follow the same routine as the day before, ending in a lovely alfresco dining experience.
Day 4 -5: Lower Zambezi National Park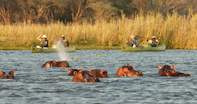 After an early morning game viewing activity and brunch, you will embark on a 60-minute boat transfer through the Lower Zambezi National Park to Old Mondoro. A day at this Zambia safari lodge typically follows a routine but can be altered by varying game viewing activities. An early wake-up call leads to a warm cup of coffee and a light breakfast around a campfire, as the sun rises.

Morning activities are a choice between a game drive, guided bush walk, and a Zambezi River safari. Safari-goers will have the opportunity to have a first-hand of the bush and its wildlife as it awakens for the day. Wildlife sightings may include buffalo, elephant, leopard, lion, waterbuck, hippo, impala, roan and a prolific list of wildlife.

Return to the camp at around 11:00 for a breakfast buffet before enjoying some free time until afternoon tea. Enjoy a siesta or relax in the canvas and reed lounge area that overlooks a maze of islands. Monitor the Zambezi River for any unusual wildlife that might approach the banks for a sip or a swim.
Afternoon tea is served at 15:30, leaving enough time to prepare for your afternoon activity, which is a choice between a bush walk, boat safari, canoe excursion, fishing on the Zambezi or a wildlife photography session.

After an exhilarating time in the bush, return to camp in time to embark on the night drive that goes out with a spotlight in search of the nocturnal wildlife such as bush babies, owls and the elusive leopard. Return to a delicious 4-course meal that can be enjoyed in the dining area or alfresco by the campfire.

After dinner, spend some time enjoying the cool African evening under a canopy of stars before returning to your suite for a peaceful night's rest.
Day 6: Lower Zambezi National Park - Lusaka
After an early wake-up call and a warm cup of coffee, you will be escorted on a final early morning game viewing activity. Photograph the wilderness one last time before you embark on a road transfer to the airstrip where you will board a flight to Lusaka Airport. Here, you will board a flight to your final destination.