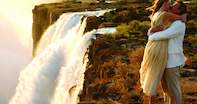 This deluxe vacation takes couples on a romantic journey to the banks of the Zambezi River for an exclusive and private hideaway in Zambia.
Zambia Safari Vacation Package Highlights
Accommodation: Open-fronted cottage, honeymoon chalet
Activities: Game drives, bush walks, boating safaris, canoeing, village tours, visit to Victoria Falls
Destinations: Livingstone, Zambezi River
What you can expect on this 5 day Zambezi safari
Celebrate the natural majesty of the Zambezi River and the mystical Victoria Falls in an ambience of pure romance. Hide away in an open-fronted cottage and enjoy the tranquility of two exquisite Zambia safari lodges with your loved one.
Relish under the refreshing showers of the Falls as you stroll along to the thundering echo of this natural phenomenon. Take a step back in time as you explore the historical town of Livingstone and fall in love with Zambia the way the famous explorer, David Livingstone, had so many eras ago.
Day 1 - 2: Livingstone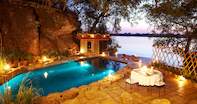 Upon arrival at Livingstone airport, now known as Harry Mwanga Nkumbula International Airport, you will be welcomed by a lodge representative and taken on a road transfer to Tongabezi Safari Lodge in Livingstone.

This Zambia safari lodge is situated on the banks of the Zambezi River, placing it in the ideal position for water-based excursions. Explore the waters from an intimate two-seater canoe, or create everlasting memories on a sunrise or sunset cruise.
Game drives and guided bush walks in the Mosi-oa-Tunya National Park allow you to encounter the free-roaming wildlife while visits to Mukuni Park, Simonga Village and the Marambe Market lead you to cultural interactions with the locals.

Livingstone is the base for historical excursions such as visits to the many museums and the colonial architecture that will take you on a charming journey to a bygone era. The friendly staff will provide you with attentive service, making you feel at home at this Zambia safari lodge. After a day out, return to your suite that has been tidied by the dedicated housekeeping service.
Day 3 - 4: Zambezi River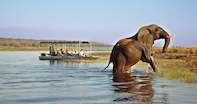 A road transfer will deliver you to Sindabezi Island, your home for the next 2 nights. This Zambezi River lodge in Zambia offers views of the Zambezi and its wildlife through the open-sided Honeymoon Chalet. A stroll along the boundaries of the Victoria Falls will add a touch of magic to your vacation. This shared experience is sure to be engraved in your hearts for a lifetime. An afternoon cruise on the Zambezi will adorn your memories with a spectacular sunset.
Encounter Zambia's wildlife during game drives and walking safaris in the Mosi-oa-Tunya National Park where free-roaming animals include wildebeest, impala, and elephant. After a day of adventure, relax during optional pamper sessions offered at the on-site spa.

A special couples spa treatment will rejuvenate you and your loved one before dinner. Spend your evenings indulging in fine cuisine during a private riverside dining, with your toes hidden in the sand and while gazing into a ceiling of stars. Alternatively, you can experience romance at its best as you float along the waters of the Zambezi during a floating sampan candlelit dinner.
Day 5: Livingstone
Awake to the sounds of the abundant birdlife as you prepare for your departure from the lodge. Have your camera and binoculars handy for final wildlife sightings. A tour representative will collect you at the lodge and take you on a road transfer to the Harry Mwanga Nkumbula International Airport in Livingstone where you will meet your onward travel arrangements.