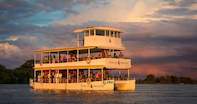 © African Queen River-boat Sunset Cruise
Expected Zambia Safari Vacation Package Experience:
Accommodation: Up to 120 guests can stay on board the luxury cruiser
Activities: Game viewing / birding while cruising, functions, conferences, various cruise options - breakfast, mid-morning, lunch and sunset cruises
Destinations: Zambezi River
What you can expect from this African Queen Cruise Experience Tour
The African Queen is a triple deck 70ft catamaran, furnished with Rhodesian Teak, Beech Wood and brass finishes. Accommodating a total of 120 guests, offering luxurious cruises on the Zambezi River, you can experience all the wonders that nature and this mighty river have to offer. Functions, venue hire and conference rooms are available.
On arrival at the Royal Landing, you are greeted with a cold cocktail and the sounds of the Marimba Band, a local instrument that laments the sounds of Africa. A full bar on both upper and lower deck serve a selection of cocktails, iced drinks and a variety of snacks. The African Queen embraces both the mystery and tradition of an African way of life untouched by time.
Breakfast Cruise
The African Queen Cruise Experience's sunrise cruise promises not only the early morning yawn of the Hippo, the cry of the Fish Eagle and the reflections on still water, but a
sumptuous breakfast fit for royalty
.
Mid-morning Cruise
On the mid-morning cruise you'll
experience the African savannah
as it wakes and goes about its day, as well as seeing clouds of mist above the thundering Victoria Falls.
Lunch Cruise: 2 hour cruise
Join The African Queen Cruise Experience's lunchtime cruise and enjoy a
delicious African buffet
, surrounded by the African wildlife as it relaxes in the midday heat.
Lunch Cruise: 1 hour cruise
For those with less time in the middle of the day, The African Queen Cruise Experience offers the
one hour lunch cruise
, which is inclusive of its full bar and lunch menu. Seek refuge from the midday heat and let the cool river breeze comfort you as you dine. 
Sunset Cruise
In the fading twilight hours, take a sunset cruise. Heed the call of Africa while
sipping traditional cocktails
and enjoying light snacks.