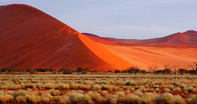 Namibia is located in southwestern Africa, and the capital city of Windhoek has a large German population and German influences are seen in the cuisine and culture. English is the official language of Namibia. Cultures include European (English, Afrikaans, German), Herero, Himba, Kavango, Ovambo, Nama and Damara. The local currency is the Namibian Dollar. Namibia is two hours ahead of GMT.

Wildlife viewing is good throughout the year, while on a Namibian safari tour. Temperatures are pleasant between April to November, which is a good time for game viewing. It is best to avoid the Namib-Naukluft and Etosha National Parks in the extreme heat (40 + Degrees Celsius) from December to March. The high season runs from July to October so it is advisable to book accommodation and Namibia safari tours well in advance.

Find Namibia safari lodges and tours in the best Namibia Safari Destinations below.