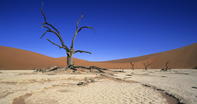 Namib Naukluft Park is located in Namibia, and forms part of the Namib Desert. The park is the biggest wildlife park in Namibia, and access to and from the park is by road or air transfers. However, some regions of the park are inaccessible.
The landscapes of Namib Naukluft Park are surfaced with sand dunes, gravel plains and canyons. This desert wildlife park has spectacular sightings of desert-adapted species of game, including Hartmann's zebra, oryx, warthog, ostrich, leopard and kudu.
The incredible birdlife of Namib Naukluft Park includes over 200 species of recorded species. Among the creatures that flock the region includes Ruppel's parrot, rosy-faced lovebirds, hornbill and Karoo robin.
Namib Naukluft Park accommodation is offered at desert lodges and camps. Activities includes game drives, sand dune excursions, bush walking safaris and hot air ballooning.
See below for Namib Naukluft Park tours.