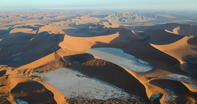 © Shem Compion
Sesriem is located in the Namib Desert, and is in close proximity with the Naukluft Mountains in Namibia. Sesriem is the gateway destination for those wishing to access the Namib Naukluft National Park. At Sesriem, camelthorn tree and the Tsauchab River all form part of the region's beautiful scenery.
Attractions at Sesriem includes the spectacular Sesriem Canyon. Sesriem gives guests easy access to the renowned Sossusvlei, and is serves as the perfect overnight stop. Sesriem accommodation is offered at various camps. Activities at Sesriem includes excursions to Sossusvlei and the Sesriem Canyon.
See below for Sesriem safari recommendations.
Explore some of Namibia's attractions during this Namibia Safari. Visit Etosha Park and experience an exciting game drive. Keep an eye out for Zebra, Lion and Elephant. Explore the scenic Sossusvlei...
more