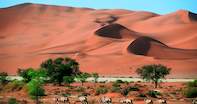 Expected Namibia Safari Vacation Package Experience:
Accommodation: Wilderness camp, lodges, guest house
Activities: Game viewing, game drives, Etosha pan walk, waterhole visits, birding, swimming, shopping, desert walks, dune climbing, visit Sesriem Canyon, scenic drives
Destinations: Windhoek, Otjiwarongo, Etosha National Park (Halali, Okaukuejo), Namib Desert (Namib Naukluft Park, Sesriem, Sossusvlei, Deadvlei)
What to expect from this 6 day Dunes and Wildlife Safari Experience:
Explore some of Namibia's attractions during this 6 day safari in Namibia. Visit Etosha National Park and experience an exciting game drive. Keep an eye out for Zebra, Lion and Elephant. Explore the scenic Sossusvlei area on foot and visit the beautiful Sesriem Canyon. Look forward to exploring the base or climbing the well known Dune 45.
Day 1: Etosha National Park, Namibia
Enjoy the unique Namibian landscape as you make your way to Halali Camp in Etosha National Park. Halali is located at the base of a dolomite hill, under Mopane trees. There is a a flood-lit waterhole and when viewed from an elevated vantage point, it offers superb wildlife viewing throughout the day and night.
Included: Breakfast and dinner.
Day 2: Etosha National Park, Namibia
Today you will depert at sunrise and enjoy a game drive until mid morning, at which point you will stop for a light breakfast. Waterholes will be visited along the way. After seeing excellent game sightings, your guide will prepare you a scrumptious lunch while you have a dip in the pool or relax by the camp waterhole.

After lunch you will visit the mighty Etosha Pan and have the experience of walking on the pan to feel the immenseness of this 4500 sq km saltpan (seasonal). You will then continue back to Okaukuejo calling into some well-known waterholes and leave the park prior to sunset. Dinner is prepared by your guide and another early night is recommended.
Included: Breakfast, lunch and dinner.
Day 3: Swakopmund, Namibia
On day 3 of your Namibian safari you will have breakfast and then leave for Swakopmund via Outjo and Omaruru, your guide will give you a roadside lunch en-route. You will get to Swakopmund in the late afternoon and get some leisure time to explore the town on foot. Dinner will be at your own expense.
Included: Breakfast and lunch.
Day 4: Near Sesriem, Namibia
Enjoy a leisurely morning relaxing by the pool or explore the town for some last minute shopping. On day 4 of your 6 day Dunes and Wildlife safari in Namibia you will make your way towards Sesriem via Rehoboth and Naukluft.
You will arrive at camp in the late afternoon where you can enjoy the beautiful views. Take a short walk to watch the scenic sunset while looking out over the Naukluft mountain range. Your guide will prepare your dinner. The camp has pool and bar facilities.
Included: Dinner.
Day 5: Sossusvlei, Namibia
Rise at dawn and explore the ancient riverbed surrounded by scenic dunes. Make your way into the Sossusvlei area and experience the tranquility of this region. Explore the Dead Vlei on foot and view the vast land of bleached cracked clay and camel thorn trees.
On the way to the camp you'll have the opportunity to climb Dune 45 or explore the base. Stop at Sesriem Canyon to take in the beautiful views before arriving at the lodge in the late afternoon. Watch the sun set over the Namibian desert while you guide prepares a delicious dinner.
Included: Breakfast, lunch and dinner.
Day 6: Windhoek, Namibia
Today marks the end of your 6 day Dunes and Wildlife safari in Namibia. Make your way back to Windhoek via Solitaire and Rehoboth while enjoying the unique surrounding scenery. You will arrive at Windhoek prior to lunch.
Included: Breakfast.