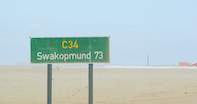 This 20-day affordable African safari tour to Namibia, Botswana and onwards to Victoria Falls is a rite of passage for travellers seeking to conquer the ultimate African adventure.
African Safari Tour Experience
This journey through Southern Africa packs a lot of punch. Powering through four expansive countries: South Africa, Namibia, Botswana and Zimbabwe.
The custom built trucks set adventure tours apart from other methods of African travel. From tents and mattresses to food, tables and chairs, everything you will need for this affordable trip to Namibia and beyond is kept within these versatile machines. You can also choose whether you would prefer to stay in a tent or a room, by opting for a camping or accommodated package.
Spend your nights mesmerised by the glow of the campfire and fall asleep to the natural lullabies of nature. This expedition is all about being in reach of adrenaline packed adventure activities and wildlife viewing. Africa will become your playground as you make your way from the tip of South Africa through Namibia, to the spectacular Victoria Falls, also known as "Mosi-oa-Tunya" (The smoke that thunders).
African Safari Tour Highlights
Budget friendly way to see Namibia, Botswana and Zimbabwe
Departs weekly and vice versa
Choice between camping or accommodated
Inclusive of meals, accommodation, activities and guided transport
Find friendship and adventure with fellow travellers
Witness the breathtaking views of the Fish River Canyon
Go on a guided walk in the Namib desert and hike up Dune 45
Interact with a Namibia Himba tribe and the Kalahari SAN Bushmen
Embark on game drives in Etosha and Chobe National Park
Glide through the Okavango Delta waterways on a mokoro
Cruise the Chobe River
Experience thrilling adventures in Victoria Falls
Day 1: Sala kakuhle, South Africa!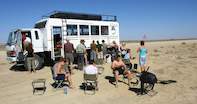 This affordable African safari tour to Namibia starts off on a bittersweet note saying goodbye to Cape Town. Continuously voted as the best city to visit, leaving here is only going to get better (especially after a stop en route for wine tasting). Catch that last glimpse of Table Mountain as you head up the West coast of South Africa.

Your nose will let you know when you have arrived at your first overnight stop. The citrusy aroma is a signature smell of the Cederberg region which is home to orange farms and rooibos (a big plus for tea lovers). On this first night, you will enjoy a traditional welcome dinner with your guides and new travelling comrades.
Day 2: On the Banks of the Gariep (Orange) River
The second and last night in South Africa will be spent along the banks of the Gariep river. The route to get there will take you through Namaqualand. This arid, 'big sky' landscape is host to an array of springtime wildflowers that have made this region famous.

An advantage of travelling on an overland truck is that provides ample viewing from all angles as you go from one landscape to the next. It takes quite a bit of driving on these first two days, but the sights are well worth it.
Day 3: The Grand Canyon of Africa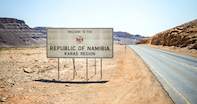 Listen out for the unmistakable call of the Fish Eagle as you paddle out on the Gariep in your canoe. Keep your passport and camera on hand today as you cross the border into Namibia and travel towards the Fish River Canyon. Get ready to snap up your best pics of this crimson arena filled with eroded rock as the sun sets- a sight that truly does give the Grand Canyon a run for its money.
Day 4-5: Desert, Dunes and Deadvlei...Or Mars?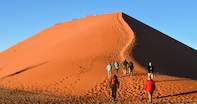 This African safari tour to Namibia is at its best as you head deeper into this rural, almost alien-like landscape. These long stretches of road burst through the striking contrast of blue skies against rusty red dunes. After a good night's sleep at the foot of the dune fields, the crew will make sure you wake up early the next morning to climb up Dune 45. This is the perfect vantage point to welcome the new day, as the sun illuminates the landscape in a fiery orange glow.

Hop on your 4×4 transfer to explore the Sossusvlei and Deadvlei. These salt and clay pans areas are surrounded by dunes of dry red sand which closely resembles planet Mars. The last stop for the day hails a view of the Sesriem Canyon but the adventure is far from over as you will also be treated to an educational desert walk with a local guide.
Day 6-7 Swakopmund (Not Germany)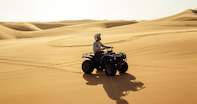 On this day you will be crossing the Tropic of Capricorn. Get your iconic photo with the signboard, a tradition for many travellers heading Westward towards the Atlantic ocean. After a stop at Walvis Bay lagoon to admire the pelicans and flamingos, the next two nights will be spent in the coastal town of Swakopmund for a small dose of civilisation, bratwurst and brōt. Explore this Germanic inspired town at your leisure or attempt some optional activities such as quad biking, sandboarding, skydiving, or dolphin cruising.
Day 8: Spitzkoppe and Rock Art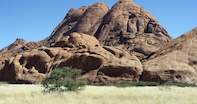 Heading back out on the road this morning includes a drive along the Skeleton Coast. As the name accurately describes, this region is littered with whale bones and crumbling shipwrecks. There is much to see as you pass through the salt works and into the vibrant town of Wlotzkasbaken. Enjoy a late afternoon walk with a guide to learn more about Spitzkoppe, meaning 'pointed dome" in German. It refers to the granite peaks found in the Namib Desert. Discover how these fascinating formations were used by the San people as canvases for their rock art.
Day 9: Learning About the Himba Tribe
After a hearty breakfast, this Namibia safari tour continues onwards towards Outjo, a small city of only 6000 inhabitants and the gateway to Etosha National Park.
On this day, you will also be introduced to culture and heritage of the Himba people of Northern Namibia. This includes a visit to an educational tribe set up for travellers so that they can learn more about these semi-nomadic pastoralists without interfering within the community itself.
Day 10-11: Exploring Etosha National Park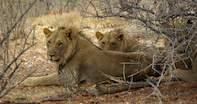 Rising early, a short drive will bring you into the heart of Etosha National Park, Namibia's finest wildlife reserve. A seat on an overland truck is ideal for game viewing here. You will get an elevated view as you explore the grasslands and waterholes that attract various animals such as impala, red hartebeest, elephants, zebra, springbok and the world's tiniest (and cutest) antelope, the Damara dik-dik. Keep an eye out for those lurking predators though. Where there is prey, hyena, lion, leopard and cheetah are never far off.

These two days will provide ample game drive opportunities to make the most of your time here. Evening drives are optional but highly recommended as Etosha at night is a whole new experience, especially near the water's edge. The Etosha pan also boasts a healthy community of birds such as raptors, eagles, hornbills, and ones with amusing names worth learning, such as the Bare-cheeked babbler, Purple Roller, and Carp's tit.
Day 12: A Walk through Windhoek
Heading back out on the road today, you will have the opportunity to admire the hand-carved wooden artefacts of Okahandja market. You will be sure to find something special to remember your Namibia tour long after it has ended.
It's back into city life as you enter Windhoek, the capital of Namibia. Your guide will take you on a stroll through the historic streets that echo very strong colonial influences. You can take a guess as to which nation has a strong presence here, not only by the food and architecture but the beer.
Windhoek Lager is a proudly Namibian beer which can be enjoyed throughout Africa. It is brewed in the capital and served ice cold at the infamous Joe's Beer House where you will be able to line the stomach with some Namibian/German food for dinner.
Day 13: Dancing in the Kalahari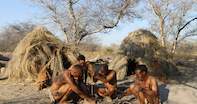 Into Botswana, you go where the Kalahari Desert awaits. Referred to as semi-arid, it receives and retains more rainfall than conventional dry deserts. The Kalahari supports a fascinating variety of plant and animal life as well as the remnants of the San people.

Dinner tonight will consist of song, dance and storytelling which will provide insight and understanding into the life and heritage of these original inhabitants. This is your chance to experience this incredible minority culture that is sadly under threat.
Day 14: The Gateway to the Delta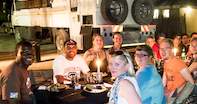 This morning allows you the option to spend more time with the San people and to learn about how they embrace their environment to survive. Tonight in Maun, your guide will brief you on your 3-day excursion into the Okavango Delta in Botswana, which is also listed as a UNESCO World Heritage site.
Day 15-16: Okavango Delta Excursion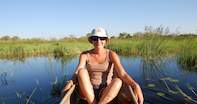 Today marks the start of your 3-day excursion into the Okavango Delta and a break from life on the road. The Delta's meandering water channels and islands are best explored by a dug-out canoe called a mokoro. Don't let the hippo and croc sightings deter you as you glide peacefully alongside nature. These swampy plains are a hotspot for animal life. Lion, giraffe, cheetah, leopard and African wild dog roam freely among other inhabitants that you will be sure to spot.

Make the most of your time to appreciate this lively ecosystem by partaking in nature walks and safari drives. A night drive here is a must as the area completely transforms under the cover of darkness. Keep an eye out for aardwolf, caracal, aardvark and owls. In the Okavango Delta, it is common for something or 'someone' to be causing a commotion near the water's edge.
Day 17: Back into Namibia, Caprivi Strip
Your African safari tour continues back on the road as you re-enter Namibia. This area is called the Caprivi Strip. The drive through here towards the Chobe National Park provides an opportunity for more animal sightings and of course a cheeky power nap or two.

The overnight stay this evening is a short distance from the Botswana border and your guides will help prepare you for an exciting day of activities the next day.
Day 18: Cheers to the Chobe National Park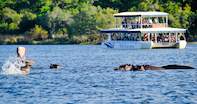 Back into Botswana, your Chobe National Park adventure begins with a 4x4 exploration. This will get you up close to the families of elephants that frequent the riverbanks in the afternoons. Elephants are notoriously associated with the Chobe and spending time observing their behaviour will lead to a much greater understanding and admiration of these large and lovable creatures.

Towards the late afternoon, you will enjoy a leisurely boat cruise along the Chobe River which is an absolute must for visitors to the park. Then, as the golden sun drops below the horizon, move in closer to the campfire as you enjoy a hot meal, crack open a cold one and reminisce on your experiences out on the African road.
Day 19-20: Explore the Victoria Falls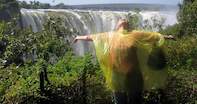 Today you will cross the border into Zimbabwe which signals the final leg of your journey. With the anticipation building, the time has come to marvel at the falls (listen out for its very own drum roll!). Make these last two days count by exploring the mighty Zambezi River and making the most of the various activities such as white river rafting, bungee jumping, zip wiring, river boarding and helicopter flights.

A definite mecca for adrenaline junkies and thrill seekers, the bustling town of Victoria Falls provides also an array of markets, restaurants and shops to explore. End your final night on a high note rejoicing in the company of your new found travel friends and guides, as you share your last meal together.
Included
19 nights' in 3 or 4 stars shared accommodation (rooms with en-suite bathroom) OR 19 nights' camping in a dome tent
Transport in an overland adventure vehicle for 20 days
Experienced English speaking tour guides throughout the tour
Meals are prepared and served at the truck (Breakfast x19, Lunch x18 and Dinner x14)
Wine tasting at Cedarberg and a traditional dinner
Scenic walk along the rim of Fish river canyon
Hike up Dune 45 and walk upon the endless sea of red sand
Visit the pans of Sossusvlei and Deadvlei and a late afternoon visit to Sesriem Canyon
Guided desert walk with local expert before crossing the Tropic of Capricorn
Visit Spitzkoppe and explore with a local guide
Visit a Himba project that will introduce you to the Himba people and visit the Petrified Forest
2x full day game drive in Nomad truck in Etosha National Park
Walk through Windhoek with your guide a stop at a craft market
Cultural San evening dance with insight to song, dance and storytelling
2x Okavango Delta excursion visiting the Okavango river fan and Kalahari Basin
Chobe National Park game drive experience with elephant sighting and a boat cruise
Victoria Falls National Park visit
Not Included
Entrance fees unless otherwise specified
Drinks and meals not specified in the itinerary
Optional activities and all extras to be settled direct