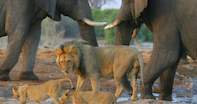 Expected African Safari Tour Experience Overview:
Accommodation: Camping, Hotels, Lodges, Bungalows.
Activities: Guided tours, Game walks, Bird watching, Sundowner walks, Game drives, Scenic flights, visit the San (Bushman) rock paintings, visit the dunes of Sossusvlei.
Destinations: Waterberg Plateau, Omboroko Mountains, Etosha National Park, Southern Damaraland, Swakopmund, Namib Naukluft, Windhoek.
What you can expect from this 13 day Exclusive, Elegant, Fully Serviced Camping & Lodge Safari tour:
On this 13-day safari tour you will experience Namibia at its level best as you travel from Windhoek to the Waterberg Plateau, which showcases its compelling beauty with wide-open spaces. Enjoy stunning views of the Waterberg Plateau rising some 200 metres (656 feet) above a sea of bush and savannah. You will spend a full day exploring the Waterberg Plateau on foot.
Visit Okonjima, home to the Africat Foundation, which is a non-profit making organisation, dedicated to the conservation and protection of Namibia's threatened cats, primarily Cheetah and Leopard. Enjoy yet another day of full game viewing at the Etosha National Park. Go on an afternoon game drive in the Namutoni area, which is characterised by the historic Beau Gestean fort.
You have a chance to visit the San (Bushman) rock paintings and engravings at nearby Twyfelfontein. Go on an early morning seal and dolphin cruise, which takes you through Walvis Bay harbour. Explore one of the most pristine gorges in the Namib Naukluft Park. Your safari will conclude in Windhoek.
Day 1: Waterberg Plateau
Your Exclusive Fully Serviced Safari starts at 8am this morning, when you meet your guide in the foyer of the Windhoek Country Club. Within minutes of leaving Windhoek the compelling beauty of Namibia's wide-open spaces embraces you. Your drive to the Waterberg Plateau takes you along the quiet country roads through an area rich in cattle and game farms.
You stop en route at the Olive Farm for a guided tour trough the Olive plantation and factory, followed by lunch in these tranquil surroundings.
After lunch you continue on the Exclusive Fully Serviced Safari towards Waterberg. Rising some 200 metres (656 feet) above a surrounding sea of bush and savannah, the Waterberg Plateau Park is recognisable from some distance away.
It's imposing; flamboyant red sandstone formations and lush green vegetation present an island of vibrant colour, which seems to glow at sunrise and sunset. This vast pristine wilderness is home to a huge variety of plant species, 240 bird species, and rare and endangered species of game.
It is also an area steeped in history as it was in the foothills of the Waterberg Plateau where the Herero people lost their greatest battle to the German colonial forces at the beginning of the century. Your exclusive campsite provides a shady refuge beautifully situated under a dense canopy of Leadwood, Camelthorn and Umbrella thorn trees.
Kudu and the diminutive Damara Dik Dik frequent the area of the campsite, and Leopard tracks have been seen on a number of occasions. A late afternoon walk for sundowners enjoyed at a vantage point on top of the Waterberg will afford you a truly magical view of the sandstone cliffs that are emblazoned with colourful splashes of lichen. Like a backdrop in the distance, the plains of the Northern Kalahari lie completely flat.
Day 2: Waterberg Plateau
Today, the Exclusive Fully Serviced Safari will be spent exploring the Waterberg Plateau on foot. In addition to bringing one closer to nature this is a wonderful way to observe and learn about the diverse bird and plant life that makes the Waterberg Plateau such a unique Namibia destination. An added bonus is the possibility that you may experience the thrill of seeing  black or white Rhino.
Day 3: Omboroko Mountains
It's a short trip today to Okonjima, which lies nestled in the unspoiled beauty of the Omboroko Mountains, part of the Waterberg Plateau. In the Herero language, Okonjima means 'place of the baboons'. This is a family-run lodge, which is known for its peaceful, caring and friendly atmosphere.
There are only 10 rooms, which are set around an attractive garden. Each room is individually furnished and has an en-suite shower and toilet.
Okonjima is home to the Africat Foundation which is a non-profit making organisation dedicated to the conservation and protection of Namibia's threatened cats, primarily Cheetah and Leopard. You will be able to see this programme at work and learn more about these beautiful creatures, in addition to having some wonderful photographic opportunities.
There is a bird hide, which is within walking distance from the lodge; over 300 species have been identified at Okonjima including most of the Namibian endemics.
For clients wanting to get in touch with nature, there are a number of walking trails including a guided San (Bushman) trail where you will learn about the traditional lifestyle and philosophy of these unique and ancient people. Excellent home cooked meals with plenty of fresh herbs and accompanied by homemade breads, are served indoors or outside around a fire.
After dinner you may opt for a swim in the spot lit pool or visit the hide where Honey Badger, Porcupine and other nocturnal creatures are sure to entertain you.
Day 4: Etosha National Park
You make your way to your exclusive campsite at the private Fischer's Pan Game Reserve, which borders the eastern perimeter of the world renowned Etosha National Park, only a couple of kilometres away from the Von Lindequist Gate.
In addition to its prime and secluded location, your campsite is beautifully situated on the edge of a small vlei, which is surrounded by shady Terminalia and Tamboti trees. A variety of game, including Leopard, roam at will in this area. Enjoy an afternoon game drive in the Namutoni area, which is characterised by the historic Beau Gestean fort.
Day 5: Etosha National Park
Etosha National Park covers 22 270km of countryside ranging from dense bush to barren plains. The heart of the park is the Etosha Pan, meaning 'Place of Dry Water', a vast, dry, silvery-white shallow depression of shimmering mirages.
Along the southern edge of the Pan, perennial springs feed waterholes, which attract an abundance of mammal and bird species, thus providing rewarding and often spectacular game viewing. The day is spent game viewing in Etosha National Park.
Day 6: Etosha National Park
Today you make your way to the western side of Etosha National Park stopping en route at the numerous waterholes to view game at close quarters. Late afternoon you arrive at Okaukuejo where your overnight accommodation is in bungalows. The highlight at Okaukuejo is a floodlit waterhole, which is frequented by Elephant, Giraffe, black Rhino and Lion.
Day 7: Southern Damaraland
After a final early, morning game drive you head for your private campsite in southern Damaraland. Here lies a vast unspoilt wilderness with a magnificent rugged scenery of rolling plains and distant mountains, a variety of desert flora and fauna, fascinating geological formations and a wealth of rock paintings and engravings, which combine to form the unique attractions of Damaraland. Enjoy a late afternoon stroll amongst the boulders and kopjes that are the heart of this amazing land. Enjoy a sundowner as you reflect on the true meaning of peace and tranquillity.
Day 8: Southern Damaraland
Early this morning you visit the San (Bushman) rock paintings and engravings at nearby Twyfelfontein. These spectacular engravings are thought to be the work of hunter-gatherers who lived in the area thousands of years ago. South of Twyfelfontein, in a desolate landscape of volcanic rock, lies the Burnt Mountain.
Nearby, a further geological curiosity is the formation of perpendicular basalt called the Organ Pipes. Other activities include nature walks and off-road drives, in search of the rare desert-adapted Elephant and the elusive desert black Rhino, which have adapted to the harsh elements of this region.
Day 9: Swakopmund
You head on the Exclusive Fully Serviced Safari towards the coast and Cape Cross where the Portuguese seafarer Diego Cao became the first European to set foot on Namibian soil in 1486. Cape Cross is also home to more than 80 000 Cape Fur Seals. A special feature along the coast is the extensive lichen fields. Swakopmund is Namibia's premier seaside resort and resembles a Bavarian village with its many 19th century buildings harking back to its colonial past.
Hedged by the desert and the wild Atlantic, Swakopmund offers old world charm, a relaxed atmosphere and a host of activities. Your accommodation tonight is at the four star Swakopmund Hotel and Entertainment Centre, which has been built in and around the impeccably restored historical station building. Dinner will be at a local seafood restaurant.
Day 10: Swakopmund
This morning at 8:30am you depart on a seal and dolphin cruise. This takes you through Walvis Bay harbour, the fishing factories and Russian trawlers. From here on to bird island, Pelican Point and back via the lagoon where a variety of birds such as Pelican, Flamingo, and Cormorant can be seen. A highlight is wild Seals boarding the boat to be fed by hand.
Fresh oysters, champagne and snacks are enjoyed at the Seal colony, where Dolphins join the fun around the boat. Afternoon at leisure to enjoy a variety of optional activities such as quad biking, a scenic flight over the dunes and coast, and golf on one of the 5 registered desert golf courses in the world. Enjoy dinner at the Platform One Restaurant at the Swakopmund Hotel.
Your exclusive campsite is surrounded by the huge Naukluft Mountains, a rugged range characterised by sheer cliffs deeply incised river valleys and rolling hills which are a sanctuary for Hartmann's Mountain Zebra, Oryx, Springbok and Kudu.
A feature of your attractive campsite is the ruins of an old police station which still huddles in the shade of ancient trees and takes one back to the time of the Schutztruppe.
Day 12: Namib Naukluft Park
Today you explore one of the most pristine gorges in the Naukluft. You set off by 4x4 as far as the plateau. From then on the rest of the journey is by foot as you hike through the gorge with its many quiver trees and rock pools, which are large enough to cool off in. An optional late afternoon activity is horse riding at a nearby guest farm.
Day 13: Windhoek
After breakfast you return to Windhoek, in time for lunch at a restaurant in Windhoek. End of Safari.
Included
Kalahari Desert & Namib Desert
Walks in Waterberg Plateau, Damaraland and Namib Naukluft Park
History - Herero battles at the Waterberg Plateau
Wildlife - Waterberg Plateau, Damaraland, Etosha National Park
Petroglyphs / Paintings
Desert-adapted wildlife (chance of desert Elephants, Rhino and Hartmann's Mountain Zebra).
Atlantic Coast seal and Dolphin cruise
Exquisite bush cuisine
Exclusive and secluded campsites
6 Staff to cater FOR 7 guests
Guaranteed window seat
Special note
Grade 2: Deluxe serviced camping and Lodge safari, suitable for reasonably fit people. May include some walking. The tour travels with a maximum of 7 participants, in an air-conditioned 4x4 safari vehicle, and accompanied by an expert safari guide throughout.
All meals and drinks are included in the safari fare (from dinner on day one, to lunch on day 13), as well as airport transfers at the beginning and end of the safari. Window seat guaranteed throughout. Upper limit 70 years, no children under 12 years. Private departures are possible, subject to vehicle and guide availability.