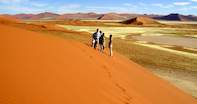 Expected Namibia Safari Vacation Package Experience:
Accommodation: Hotels, lodges, tented camp
Activities: Optional sundowner drive / walk, visit Quiver Tree Forest, Fish River Canyon tour, Luderitz / Diaz Cross tour, ghost town visit, dune climbing, desert activities, view Cape Cross Seal Colony, Twyfelfontein activities, game viewing, birding, optional spa activities, Tsumeb activities, craft market shopping
Destinations: Windhoek, Kalahari Desert, Fish River Canyon, Lüderitz, Kolmanskop, Helmeringhausen, Namib Desert (Sossusvlei, Sesriem, Moon Valley), Swakopmund, Damaraland (Twyfelfontein), Etosha National Park, Tsumeb, Otjiwarongo, Okahandja
What you can expect on this 12 day Exploring Namibia Safari:
From the Kalahari region to the treacherous gorges of the Fish River Canyon in the south and on to the star shaped dunes in Sossusvlei. The green oasis of Swakopmund, the picturesque Damaraland and one of Africa's premier wildlife reserves in the north, the famous Etosha National Park. These are just a few of the stunning places you will visit on your Namibia safari.
Day 1: Kalahari Region
Your guide will meet you at the hotel where your Namibia safari commences. You will journey to the south to the vegetated red dunes of the Kalahari Desert which differs from the Namib with the dunes being greener and less stark. A optional afternoon sundowner drive into the dunes can be richly rewarding. Overnight at the Bagatelle. Dinner is included.
Day 2: Fish River Canyon
Travel south to the picturesque Quiver Tree Forest near Keetmanskop and Giants Playground, which is an impressive jumble of massive boulders. Proceed to the magnificent boulder-studded plains and hills to the east of the great Fish River Canyon. An optional sundowner walk / drive is available. Overnight at Canon Lodge. Breakfast and Dinner included.
Day 3: Luderitz
Start the day with a guided excursion to the majestic Fish River Canyon. The next leg of your journey takes you via the small, historical village of Aus and through the vast barren expanse of the Prohibited Diamond Area, to Luderitz. After a short sightseeing tour of Luderitz, enjoy an afternoon excursion to Diaz Cross. Overnight at Nest Hotel. Breakfast and Dinner included.
Day 4: Kolmanskop / Helmeringhausen / Central Namib Desert
After breakfast in your Namibia safari you will travel to the famous ghost town of Kolmanskop and head inland across the impressive Neisip Plains to Helmeringhausen. Experience the changing landscape from the white gravel plains to the magnificent red dunes. Proceed to the central Namib Desert. Overnight at Sossusvlei Lodge. Dinner and Breakfast is included.
Day 5: Sesriem / Sossusvlei
An early start is very important as your journey takes you to the famous Sossusvlei, with its star shaped dunes. This amazing sight provides photographers with a spectacular display of images to capture. You may climb the dunes to admire the endless vistas across a sea of dunes. You will stay at Sossusvlei Lodge. Breakfast and Dinner included. 
Days 6 & 7: Swakopmund
Your destination is the coastal town of Swakopmund via the Gaub and Kuiseb Canyons. Prior to arrival in Swakopmund you will visit Moon Valley, an unusual view overlooking the landscape formed by the valleys of Swakop River. You will visit the ancient Welwitschia mirabilis which is Nambia's most celebrated plant.
Guests have the opportunity to particpate in many excursions. You will stay at Hansa Hotel. Day 6: Breakfast and Lunch packs included. Day 7: Breakfast included.
Day 8: Damaraland
Travelling along the coastal road northwards to Henties Bay, you will proceed to the Cape Cross Seal Reserve. Here you will find a small lichen reserve. Return to Henties Bay where you will travel inland past the Brandberg Mountains, which is the highest point in Namibia into timeless Damaraland. Overnight at Twyfelfontein CL. Breakfast, Lunch and Dinner is included.
Day 9: Outjo / Etosha Border
Twyfelfontein which means 'doubtful spring' has been occupied for thousands of years by huge herds of game. The slopes of the area are strewn with boulders; all dotted with engravings, some ancient paintings and there is even a virtual air museum.
Geological features include the Organ Pipes. In the vicinity of this area is the Petrified Forest where millions of years ago giant tree trunks were deposited which subsequently turned to stone. Overnight at Epacha Lodge & Spa. Breakfast and Dinner included.
Days 10 & 11: Etosha National Park
Enter the world famous Etosha National Park which is one of the largest parks in Africa. Etosha owes it unique landscape to the Etosha Pan. During drier seasons it becomes an expanse of white cracked mud, shimmering with mirages.
Waterholes along the southern edge frequently offer a rewarding game viewing experience and you can spot several rarer species such as Black and White Rhino. Hundreds of bird species have been recorded, with many migrants during the summer period. You will stay on day 10 at  Epacha Lodge & Spa with Breakfast and Dinner included. On day 11 you will be accommodated at Onguma Tented Camp with Breakfast and Dinner included.
Day 12: Return to Windhoek
Travel to the town of Tsumeb, which is dominated by the central mine shaft which mined rich ore pipe for copper, zinc, lead, silver and a variety of unusual crystals for which Tsumeb is famous for.
While in the area, you may visit Lake Otjikoto, where in 1915, the retreating German force dumped weapons to prevent them falling into the hands of the South African Union Force. Several of these weapons have been recovered and can be viewed at the Tsumeb Museum.
Return to Windhoek via the garden town of Otjiwarongo and Kavango craft markets in in Okahandja. Breakfast is included.
Included:
Same Day Transfers To And From The Airport
Accommodation On A Sharing Basis
Transport In Air-Conditioned Vehicles
Meals As Stipulated
Entrance Fees To National Parks
Portage
English - German Speaking Driver / Guide
Soft And Non-Alcoholic Beverages Whilst On Board The Vehicle
Not included:
All extra meals and drinks
Visas
Full Travel Insurance
Excursions not related to the safari
International Flights
Airport Departure Taxes
Gratuities
Items of a personal nature etc.
Vehicle type used on tour:
Microbus - Maximum 9 guests (No Minimum)