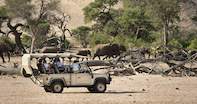 Expected Namibia Safari Vacation Package Experience:
Accommodation: Luxury tented camps, hotel
Activities: Kulala Reserve activities, swimming, kayaking / sailing, Cape Seal Colony visit, Damaraland activities (hiking biking, 4x4 trips), game viewing, game drives, birding, search for Desert Elephant & Rhino, walks, waterhole visits, scenic flight, Skeleton Coast activities (full day 4x4 trips with picnics, Himba village visits)
Destinations: Windhoek, Namib Desert (Sossusvlei), Walvis Bay, Swakopmund, Damaraland (Palmwag), Etosha National Park, Skeleton Coast National Park
Day 1 - 2: Kulala Tented Camp, Sossusvlei
From Windhoek on your Namibia tour, travel by vehicle approximately 380km to Kulala Tented Camp, enjoying awe-inspiring views of the mountains and the desert floor - on a clear day you can see the fog banks of the Skeleton Coast. En route, we enjoy a lunch in a private area overlooking the Khomas Hochland escarpment onto sweeping vistas below. One of the most enduring impressions of this area is the early morning light on the sea of vivid orange dunes of Sossusvlei, some as high as 300 metres. Afternoon activities include nature walks, drives to scenic viewpoints and marvelling at the unique Namib fauna and flora in the private Kulala Wilderness Reserve.
Kulala Tented Camp is a nine-roomed camp situated at the foot of a mountain. It comprises 9 tents on elevated wooden decks which are linked to the main dining room, bar, reception area and swimming pool by pathways. The interiors are simple yet stylish and each tent has solar powered 12V lighting and an en-suite bathroom with solar-heated hot water. The main dining area, bar and reception are built from canvas with thatch roofing.
There is a fully stocked bar and traditional 3-course dinners are served. At night, lanterns light up the main area. On the edge of the oldest desert in the world, wildlife here is sparse but fascinating. Sightings of animals such as springbok, oryx, ostrich, bat-eared fox and aardwolf are exciting in these rugged conditions.
Day 3 - 4: Hansa Hotel, Swakopmund
You depart Kulala Tented Camp to explore the ice-blue Atlantic coast, from the scenic port towns of Walvis Bay and Swakopmund to its incredible marine mammals. Kayak or sail through the calm waters of Walvis Bay to see Cape Fur seals and rare Heaviside's dolphins up close. This activity is rounded off with a private seafood lunch, before driving the final stretch of approximately 80km to relax at the exclusive Hansa Hotel.
The grand three-star Hansa Hotel forms part of Swakopmund's architectural culture and dates back to 1905; it is said to be one of the oldest buildings in the town. It is ideally situated in the centre of Swakopmund within easy walking distance of town and the beach. The luxury of the hotel, its excellent cuisine and friendly service are well known and appreciated countrywide and overseas.
Day 5 - 6: Damaraland Camp, Damaraland
On day 5 of your exciting 13 day Namibia safari you will travel along the well known Skeleton Coast to the Cape Cross seal colony. This colony is home to thousands of Cape Fur seals. Keep an eye out for African wildlife as you journey through the Ugab rivered. See the unique Brandberg Mountain, the second largest monolith on earth while en-route to Damaraland. You can look forward to lunch served along the scenic route.
Damaraland features beautiful yet stark desert landscapes, early morning mists and warm desert air. The area is home to rare succulent plants and scenic canyons. Explore the area by foot, 4x4 vehicle or mountain bike while keeping an eye out for Ostrich, Springbok and Gemsbok. You might even be able to spot the unique desert Elephant.
Days 7 - 9: Skeleton Coast Research Camp, Skeleton Coast National Park
Enjoy a breathtaking scenic flight over dramatic desert landscapes to the exclusive Skeleton Coast Research Camp situated in a private concession in the Skeleton Coast Park. This is one of the most inhospitable but hauntingly beautiful places on the planet: desolate and uninhabited.
It has everything, from roaring sand dunes, windswept plains, towering canyons and saltpans to seal colonies, and shipwrecks. Full-day explorations in 4x4 Land Rovers will take all these in, picnicking on the way. Included are cultural visits to the remote villages of the Himba people.
Days 10 - 12: Etosha
Depart Damaraland and drive approximately 380km to Etosha National Park, where we experience the pinnacle of game viewing - but from the privacy of an exclusive bush camp situated on an extensive private game reserve. Activities include wildlife day and night drives, walks and hides. Within Etosha visit numerous perennial springs and pans, encountering Lion, Leopard, Elephant and black Rhino as well as plains game.
Ongava Tented Camp comprises 8 large comfortable walk-in tents, each with en-suite facilities, including flush toilet and a hot shower. All meals are enjoyed in the thatched dining area that overlooks an active waterhole. There is a small pool in which to cool off as well.
Day 13: Charter flight to Windhoek
Say farewell to your Namibia tour as we return by air charter to Windhoek.