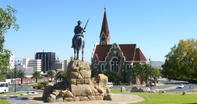 Windhoek is the capital of Namibia, and is located in the core of the country. Windhoek has one of the largest populations of any Namibian city and travelling to and from the city is easy via road and air transfers. What sets Windhoek apart from the other Namibia holiday destinations is the vibrant city centre, relaxed atmosphere, and the progressive cosmopolitan.
The beautiful sightings of Windhoek includes the newly restored baroque cathedrals and German castles. A visit to Katutura, on the outskirts of Windhoek, to experience the daily hustle and bustle of the locals.
Windhoek accommodation is offered at hotels and guest houses. Activities in Windhoek includes horse riding, self-drive tours, city tours, township tours and cycling.
See below for exciting Namibia safari tours starting or ending in Windhoek.