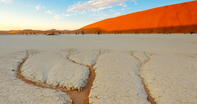 Sossusvlei is situated in the southern part of the Namib Desert, and the entire area is surfaced with salt and clay pan. The area can be accessed after an overnight at the neighbouring Sesriem. Sossusvlei is renowned for its gigantic sand dunes that range in colour and are the highest in the world.
Sossusvlei is also home to an array of free roaming species of fauna that comprises of oryx, springbok, ostrich, arthropod and reptile. Sossusvlei is the ideal destination for a tranquil getaway.
Sossusvlei accommodation is offered at desert lodges in the area. Activities in Sossusvlei include quad biking, hot air ballooning, desert excursions, desert walks and stargazing.
See below for exciting Sossusvlei lodges and tour recommendations.