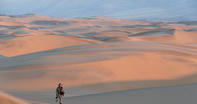 The Namib Desert is located on the Namibian coast in southern Africa. The entire western section of Namibia comprises of the Namib Desert, and can be accessed by air transfers or specialised desert vehicles. Transient rivers, sand dunes, plains, rivers, foggy coast and desert-adapted fauna and flora sets the Namib Desert apart from other African destinations.
The vast and wonderful Namib Desert has unique attractions. The unique rock paintings of indigenous people of Namibia can be witnessed at Brandberg and Twyfelfontein. The Namib Naukluft Park is located within the desert and is sanctuary to the Hartmann's mountain Zebra.
Other species of wildlife within the desert includes black-backed jackal, brown hyena, spotted hyena and gemsbok. At the coast of the Namib Desert, Cape fur seal and breeding birds can be observed.
Namib Desert accommodation is in a choice of desert lodges and camps. Namib Desert activities include bush walking safaris, game excursions, bush picnic, hot air ballooning, microlight flights and many more.
See below for luxury Namib Desert tour suggestions.