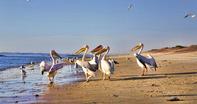 Swakopmund is nestled by the Namib Desert and Atlantic Ocean, on the western coast of Namibia. This quaint city is one of Namibia's popular holiday destinations and be accessed by road or air transfers. During the summer months, Swakopmund becomes a vibrant tourist attractions.
The pleasant weather in Swakopmund is the main reason travellers flock to the city. Apart from pleasant weather, adrenaline and cultural activities in the area sets this city apart from any other African destination.
Swakopmund accommodation is offered at hotels and guest houses. Swakopmund activities include surfing, fishing, quad biking, hot air ballooning and many more.
See below for Swakopmund tour suggestions.