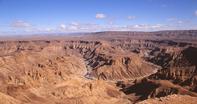 © Leigh Kemp
Fish River Canyon is situated in the far south of Namibia, and is Africa's largest canyon. The Fish River Canyon in Namibia is 161km long, up to 27km wide and almost 550m at its deepest - a kaleidoscope of purples, greys and pink that have been formed over hundreds of millions of years by the erosion of the Fish River.
This canyon forms the Namibia / South Africa border as it stretches from Seeheim in the south, to the Orange River. Known to be exquisite hiking trail, the Fish River Canyon is easily accessible by road and air transfers. The sparsity of trees at Fish River Canyon makes it a unique African destination.
Herds of Hartmann's mountain zebra, kudu, klipspringer antelope, baboon, rock rabbits, leopard, and rare sightings of mammal can be spotted on a cruise around the Fish River Canyon. Only 60 species of birds are recorded in the area and among them are black eagle, rock pigeon, Karoo bustard, herons and kingfisher.
Exclusive Fish River Canyon accommodation is offered at safari lodges and camps. Activities include hiking trails and game drives.
See below for Fish River Canyon adventures.
This 20-day affordable African safari tour to Namibia, Botswana and onwards to Victoria Falls is a rite of passage for travellers seeking...
more
View and take photos of the Kalahari Desert, the majestic Fish River Canyon and the world's highest sand dunes in the Namib Desert at Sossusvlei...
more