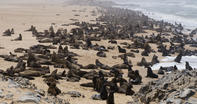 © Justin Fox
Skeleton Coast is situated on the far north-west of Namibia, the destination got its name because of the many shipwrecks that occurred over the years. At the Skeleton Coast, the unique setting of the desert in contrast with the beach creates a unique setting for an African getaway.
Skeleton Coast's unique landscape comprises of sand dunes, canyons, volcanic rock, and rocky mountain outcrops. Attractions include the remains of the shipwrecks and the area's desert-adapted wildlife. Unique sightings of elephant, big cats and black rhino can be witnessed in all their glory.
Skeleton Coast accommodation is offered at game lodges and desert camps. Activities at Skeleton Coast ranges from sand dune excursions, game drives, desert walks and scenic desert flights.
See below for a Skeleton Coast. See below for an unforgettable Skeleton Coast safari.
View the vast plains of the Etosha National Park and the spectacular dunes of the Namib Desert on this safari tour in Namibia...
more
A country of colour, contrast and space, Namibia is a photographers dream. Spectacular landscapes and a wealth of wildlife make this desert destination a place not to be missed. Jeremy Jowell...
more