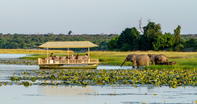 Caprivi is often referred to as the Caprivi Strip and is located in Namibia, east of the Okavango Region and northeast of the Zambezi River. It comprises of multi game reserves and is home to an abundance of game. Caprivi can be accessed by air and road and provides an easy road connection between northern Namibia, Chobe National Park and the Victoria Falls region. Perfect for an African multi-country safari.
Rivers, wetlands and forests of the Caprivi Strip in Namibia support a rich wildlife that include puku antelope, elephant, buffalo, hippo, giraffe, sable, wild dog, lion, and a myriad of predators. These incredible creatures can be spotted on game drives at the national parks within the strip. Caprivi has 5 protected areas where the conservation efforts of the local wildlife can be witnessed.
For wildlife enthusiasts the best time to visit the region is during the dry winter months as the Caprivi strip receives heavy rains from December to March. The rainy season is best for bird watching from November to April.
Caprivi safari accommodation is at luxury game lodges and camps. Activities at Caprivi include game drives, cultural tours, fishing and boat cruises.
See below for Namibia safaris in Caprivi.