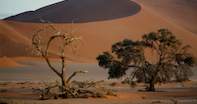 Expected Namibia Safari Vacation Package Experience:
Accommodation: Camping
Activities: Optional Swakopmund activities (adventure sports like Sandboarding, Quad biking or Tandem Skydiving, Fish River Canyon visit, Etosha National Park game viewing, optional canoe trip on the Gariep (Orange) River, scenic drive to Cape Town
Destinations: Windhoek, Etosha National Park, Cape Cross Seal Colony, Spitzkoppe, Swakopmund, Namib Desert (Namib Naukluft Park with Sossusvlei), Fish River Canyon, Orange River (Gariep River), Cape Flats Township, Cape Town
Days 1 - 2: Windhoek To Etosha National Park, Namibia
Windhoek
You begin your journey from Namibia's capital, Windhoek, where the colonial German influence can be seen in the architecture of the city. Leaving the capital you make your way north to Etosha National Park, a vast reserve of over 20,000 square kilometres in area surrounding a central salt depression or 'pan.'
Etosha National Park
The Etosha pan is seasonally full of water but specially managed year-round waterholes sustain some 114 mammal and 340 bird species. You spend two nights here and camp near a floodlit waterhole. This provides exciting night time game viewing for those who choose to stay up to watch.
Observers frequently see a range of night visitors from Elephant, Giraffe and Zebra to Lion and Hyena at close quarters around the holes, making it one of the most memorable wildlife encounters in Namibia.
Days 3 - 5: Spitzkoppe, Cape Cross Seal Colony, Swakopmund, Namibia
Spitzkoppe, Damaraland
You now head into the beautiful Damaraland region and stop at Spitzkoppe to admire ancient bushman paintings still visible on the area's peculiar rock formations. Reaching the Atlantic ocean, you then travel along some of the desolate coastline that continues south from the Skeleton Coast.
You stop at Cape Cross, the place where in 1486, the Portuguese mariner Diego Cão first set foot on the coast of southwest Africa. It is also, infamously home to some 80,000 seals, the largest of a number of seal colonies along this stretch of coast.
Cape Cross Seal Colony
The Cape Cross Seal Colony is impressive, if not just for its size, then for the immense noise and smell it produces! It also provides great photographic opportunities.
Swakopmund and Atlantic Ocean
You arrive at the colonial town of Swakopmund, Namibia's main seaside resort. Sandwiched neatly between the Namib Desert and the Atlantic Ocean, this delightful coastal oasis has developed into something of an adventure centre.
You can try Quad biking, Sandboarding or Skydiving (weather permitting). Those who prefer a slower pace can take a coastal walk or indulge in Swakopmund's café culture at your own leisure.
Days 6 - 8: Namib Naukluft Park And Fish River Canyon, Namibia
Namib Naukluft Park (Namib Dessert with Sossusvlei dunes)
Continuing south through the barren desert you reach the Namib Naukluft Park. The world's oldest desert and containing some of the highest sand dunes in the world - some of Sesriem and Sossusvlei's dunes are over 300m high - this is an ideal spot to clamber to the top of one and see the sun rise over the empty desert.
You continue deeper into the park for a nature walk across the saltpans and flat valley floors. Don't forget your camera - the changing colours of the Namib Desert sand dunes as the sun rises and sets throughout the day offer brilliant photographic opportunities.
Fish River Canyon
Continuing to the very south of Namibia you admire the awesome beauty of the Fish River Canyon. One of the natural wonders of Africa, some 500m deep and over 160km long, this is the second largest canyon in the world after America's Grand Canyon.
Again, there are plenty of opportunities for keen photographers as you spend time around this area and visit the canyon's infamous sharp river bend known as 'Hell's Corner.
Days 9 - 11: Orange River (Gariep River) To Cape Town, South Africa
Orange River (Gariep River), border crossing
On the final leg of the journey you leave Namibia and enter South Africa stopping en route for a night next to the desolate but striking Gariep (Orange) River.
Cape Flats Township, Cape Town
You continue south and notice the desert slowly give way to the increasingly fertile Cape Province. On the edge of Cape Town itself lie the Cape Flats, home to Cape Town's townships. We visit some of the local people and community projects in the area.
The townships illustrate both South Africa's tumultuous history and its hope for the future. Finally, you continue to cosmopolitan Cape Town, without doubt one of the world's most beautiful cities.
If time allows we recommend you spend a few days exploring Cape Town and surrounds. Take advantage of the variety of activities normally available here - from abseiling Table Mountain and shopping at the V&A Waterfront, to wine tasting in the nearby winelands of Paarl and Stellenbosch.
Optional Excursions:
Sossusvlei guided walk (Namib Desert)
Swakop adventure sports, e.g. Sandboarding, Skydiving, Quad Biking
Orange River canoeing