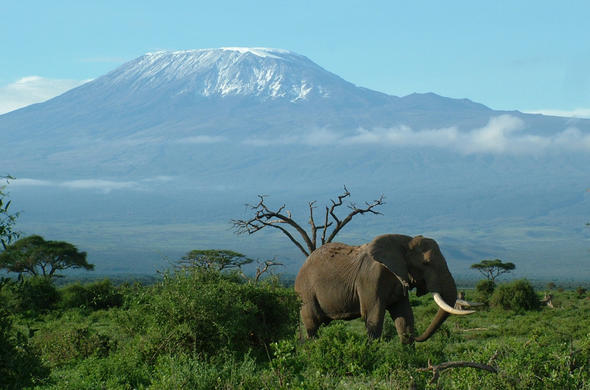 © Kilimanjaro viewed from Amboseli
There are so many attractions in Kenya that you could return again and again and never visit the same place twice. So after the magnificent Great Migration what other unforgettable adventures can you experience?
It's no secret, Kenya is a fascinating destination. Exotic tribes, exceptional wildlife and superb natural features will all leave an indelible impression, but when you look at things from an historic perspective, much more can be appreciated. Each place has a story and an association with adventurous people who came to explore and even settle or in some cases to conquer.
Here are 10 attractions in Kenya besides the Great Migration
The Swahili Coast
Historic, intriguing and more than a little exotic, the Swahili Coast has many attractions. The promise of sun, sea and sand draws thousands of tourists every year. The coastline offers endless white beaches and warm Indian Ocean waters but also spectacular diving and snorkelling.
Top spots for underwater delights include Wasini Island, Watamu and the Lamu Archipelago. Popular beach resorts are located at Diani, Tiwi, Kilifi, Malindi and Lamu. History and culture can be found in Mombasa, Malindi and Lamu Island and nature lovers can see wildlife plus brilliant scenery in the Shimba Hills National Reserve and the Arabuko Sokoke National Park.
Tsavo, Taita and Chyulu
Tsavo National Park was so massive that a decision was made to divide it into 2 sections. The park is split by an historic railway line which runs from Mombasa to Nairobi. The West is more scenic while the East has endless grassy plains.
'Red' Elephants, birds and legends of man eating Lions are just some of the attractions of this wildlife haven. The Chyulu Hills is a volcanic mountain range with densely forested slopes amidst vast rolling plains - this is Maasai territory. The views from Chyulu Hills stretch all the way to Mount Kilimanjaro.
Nearby Taita Hills offers a private game sanctuary and the chance to see the extremely rare Taita Falcon which is depicted in ancient Egyptian hieroglyphs.
View Kilimanjaro from Amboseli
Those iconic picture-postcard views of Mount Kilimanjaro in Tanzania with its snowy peak, are actually taken from within Amboseli National Park in Kenya. Amboseli is a favourite destination among safari and birding enthusiasts. Wildlife is abundant and you can see huge herds of Elephant for which this park is most famous.
Other animals in the park include Lion, Cheetah, Buffalo, Masaai Giraffe and Hippo. Birding is especially good around the wetland areas. You can also enjoy wonderful cultural interactions with the Maasai people in Amboseli.
The Northern Circuit
Free ranging wildlife, fascinating tribes and safari activities that are off the beaten track are what you will find here. The reserves of Samburu, Buffalo Springs and Shaba host many species of game including large Elephant herds, Lion and Leopard plus Cheetah on the plains with occasional visits from Wild Dog packs.
This region is known for its rare species. You can also visit Umoja, a unique village for Samburu women. Sharing the same eco-system is the Laikipia Plateau which is also rich with wildlife including Rhino. Enjoy a wide range of activities and wonderful views from the highlands. Read more aboutThe Northern Kenya Safari Circuit
Explore the Great Rift Valley
The Great Rift Valley has a whole host of attractions - combine them in one adventure or discover just one. When driving north from Nairobi be prepared for spectacular views from lookout sites just before the descent onto the valley floor. Active visitors looking for a day of adventure can climb Mount Longonot or go walking and biking in Hell's Gate National Park.
Those wanting to relax can go boating at beautiful Lake Naivasha which is a wildlife and birding haven and also visit Elsamere, the original home of Joy and George Adamson of Born Free fame. Further north there is Lake Nakuru, where you can see at least a million Pink Flamingos in season. Read more about The Great Rift Valley
The Western Highlands
Expect amazing views, hikes and champagne air in the extremely scenic Northern Rift Valley. Highlights include the 'World's End' lookout point at Nyaru, outstanding soapstone carvings by the Kisii people and great wildlife and birding opportunities.
Siwa Swamp National Park offers walks and sightings of the rare Sitatunga antelope, while Mount Elgon National Park has a range of bigger animals including Elephant. A top attraction in the Highlands is the High Altitude Training Centre for athletes - this region is the home of many of Kenya's outstanding runners.
Lake Turkana
If you truly want to keep things simple and get away from it all, Lake Turkana is for you. This is an adventurous place - it's the biggest desert lake in the world and also known as the Jade Sea because of the exquisite colour of the water. But that's not all.
You can investigate the origins of man and see incredible fossils of giant creatures at Koobi Fora as well as wildlife in Sibiloi National Park, or take a boat ride to volcanic Central Island. Cultural interaction is a must-do here, as the tribes of this remote region are far removed from the modern world and quite extraordinary in their ways. Read more about Lake Turkana
Mount Kenya
Both climbing enthusiasts and non-hikers can enjoy this scenic area. Mount Kenya is the second highest mountain in Africa but it can be climbed by non-technical hikers, which is why many tourists flock here every year to reach the summit of the third highest peak called Lenana.
Apart from climbing, visitors can enjoy walks on the lower slopes where wildlife can be seen, horse riding, birding and fishing or simply relaxing in the highlands. The mountain is surrounded by Mont Kenya National Reserve.
Read more about Mount Kenya
Lake Victoria
This beautiful freshwater lake forms the boundary between Kenya, Tanzania and Uganda and is the source of the River Nile. The lake is full of fish and many a fishing enthusiast has come here to catch the massive Nile Perch.
In this very relaxing environment visitors can enjoy boating excursions, resort activities, birding or visits to Ruma National Park, one of the smallest and most unusual parks in the country. Ruma is home to magnificent Roan Antelope (which is extremely rare in Kenya) also Leopard, Hyena and Rothschild Giraffe.
Nairobi National Park
On your next visit to Kenya, get over your jet lag and take some time to relax in this truly unique place. It's the only park of its kind in a city - there is no other like it in the world. On safari you can see wildlife in contrast to the city sky-line in the background.
Big game such as Rhino and Lion are present plus many other sought after species. Take a drive or a walk, have a meal or a picnic and visit the animal orphanage where you can watch an Elephant or Rhino calf being washed and exercised. Read more about Nairobi National Park
by Heather Willowmore