Kenya Safari Guide | Masai Mara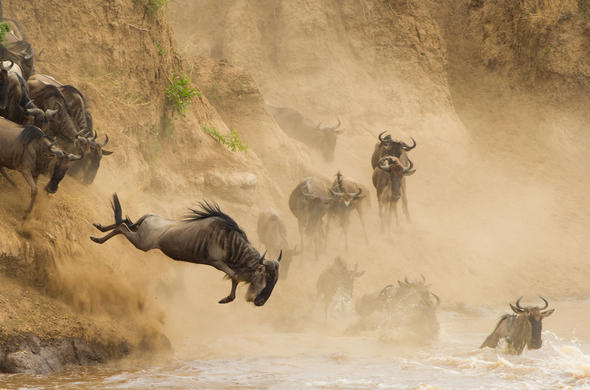 It has been called the Greatest Show on Earth, the Great Wildebeest Migration, and the Masai Mara in Kenya is host for part of the year
Much has been recorded of the great wildebeest migration of East Africa and how great a spectacle it is - and the Masai Mara plays host to this wonder of nature for a few months of the year. During this time almost two million Wildebeest, Zebra and Gazelles wander across the open plains of the Mara. But the Mara is not only about the migration.
Excellent Game Viewing Year Round
On safari at Mara Serena
Even though the herds of the great migration are in the Mara for a relatively short period of time the wildlife viewing in the Masai Mara is phenomenal throughout the year. The landscape of the Mara is predominantly open grass plains that seem to roll into the distance and this makes game easier to spot.
Exploring Masai Mara
The Masai Mara is not fenced and wildlife ranges into the Maasai territories surrounding the park. Many safari operators, in conjunction with the Maasai, have set up lodges on the Maasai land and it is here where visitors can experience the fascinating culture of one of Africa's legendary people. A visit to a Maasai village is an integral part of a Maasai Mara safari.
Highlights of the Masai Mara
Great Migration - Marvel at the sight of almost two million animals ranging across the vast plains
Predator haven - See the stars of Big Cat Diaries in this predator haven
Balloon safari - The balloon safari in the Masai Mara is probably the most famous balloon safari in the world
Cultural interaction - The area around the park is Maasai cultural land and some villages allow cultural visits
Early morning balloon flight over the Mara