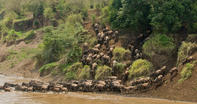 Masai Mara is situated in Narok County in Kenya, and is adjacent to the Serengeti National Park in Tanzania. The famous Great Migration of wildebeest occurs annually in the Masai Mara from July to October, where this wildlife spectacular can be witnessed from Masai Mara safari lodges and mobile camps.
Masai Mara National Park has a rich variety of wildlife where the Big Five and other animals such as wildebeest, zebra, gazelle, hippo, crocodile, hyena, cheetah, jackal, fox and zebra are spotted by travellers on Kenya safaris.
Over 470 species of colourful birds have been recorded in the region, among them the secretary bird, hornbill, crane, ostrich, eagle, falcon and lilac-breasted roller. Masai Mara accommodation is available at classic safari tented camps and lodges.
Activities at Masai Mara National Park include game drives, walking safaris, hot air balloon safaris, cultural tours and excursions to view the beautiful wildlife migrations. See below for an unforgettable Masai Mara safari experience.