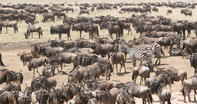 © Shem Compion
Kenya in East Africa is the home of the African safari. Kenya's people are as diverse as the landscape and include the frenetically modern denizens of Nairobi, the old-world Islamic Swahili people on the coast, and the proud Masai and Samburu pastoralists. On the coast, jungle-bound ruins pay testimony to an ancient trading culture that flourished while Europe was embroiled in the Middle Ages.
The capital city, Nairobi, is colourful and bustling, whereas the coastal city Mombasa has been a trading port for centuries. Swahili and English are widely spoken. The local currency is the Kenyan Shilling. Major credit cards are accepted, as are travellers cheques. Kenya is 3 hours ahead of GMT.
The climate of Kenya varies - the coast is humid, hinterland and northern plains dry and hot and the mounatin and plateaus cool. January to March are popular months, with a dry and hot climate, richly abundant birdlife in the Rift Valley lakes and wildlife congregatinga round watersources. June to September also experience dry weather.
The rains fall mostly from April to June and October to December, causing certain roads to become inaccessible. The Great Migration begins in Tanzania in July, when the animals head north to the Masai Mara for greener pastures.

See Kenya safari lodges and tours below in the best Kenya safari destinations.