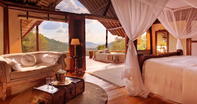 Kenya safari lodges offer a variety of safari accommodation in different styles ranging from the classic 'out of Africa' lodgings to luxury mobile camps and superior luxury lodges.
Kenya has long been recognised as Big Game country, with huge numbers of animals in over 40 National Parks and Reserves. Kenya has a
history of protecting its wildlife
, which gives the visitor a wonderful range of experiences in all sorts of different terrain. It awakens images of beauty and romance, which it well deserves.
Kenya has had its fair share of publicity too, from adventurous hunters like Teddy Roosevelt and Earnest Hemingway to popular movies like 'Out of Africa' and 'The Lion King'. Kenya has a reputation for being almost too popular, with lots of minibuses and large safari lodges.
It is true that Kenya copes very well with package tourists, but the recent trend is towards personalised 'Boutique' Kenya safari lodges, with limited number of guests in an exclusive remote setting. This means that Kenya offers something for every market and once you have been there you will know why so many safari-addicts return again and again.
It is not just outstanding wildlife that you come to Kenya for, it is also the rich culture of Kenya's tribes, of whom the Maasai are instantly recognisable. Their long thin muscular physique, clad in bright red robes is extremely distinctive and their lifestyle is a fascinating contrast to western culture. This mix of
great wildlife experiences
and eye-opening cultural encounters makes Kenya a very desirable safari destination.In addition, the Kenyan coast is simply one of the best places in Africa to spend time at the beach. The sand is soft, the sea is warm and the sun is shining. There are
hundreds of beach resorts
most offering a multitude of water sports and swimming pools. Several of Kenya's wildlife parks are within a reasonable drive from the coast including, Tsavo, Taita Hills and Shimba Hills.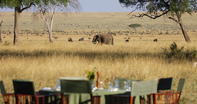 Much has been recorded of the great wildebeest migration of East Africa and how great a spectacle it is - and the Masai Mara plays host to this wonder of nature for a few months of the year. During this time almost two million Wildebeest, Zebra and Gazelles wander across the open plains of the Mara. But the Mara is not only about the migration. Kenya safari lodges in Masai Mara offer excellent all year round wildlife sightings.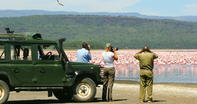 The Great Rift Valley, approximately 6000km is Kenya's awe-inspiring geological feature visible from the lookout point between Nairobi and Lake Nakuru. Discover this regions diverse Eco-system while staying at a Kenya safari lodge overlooking the Great Rift Valley Lakes.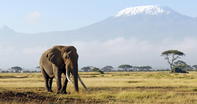 Amboseli National Park boasts the iconic scenes of elephants crossing the plains with the snow-capped Moun Kilimanjaro in the background. See an array of wildlife including elephants, wildebeest, zebra, buffalo, hippo, cheetah and lion. Hot Air Balloon trips boast views of Kilimanjaro, Maasai villages and herds of Amboseli elephants.
Kenya Safari Destinations
Amboseli - Famous for Elephants in front of a classic picture of Mt. Kilimanjaro
Aberdares - Famous for its dense wooded hills, monkeys and treetop lodge 'The Ark'
Laikipia Plateau - Famous for Kuki Gallman's 'I Dreamed of Africa' remote lodges
Lewa Downs - Famous for preserving black and white Rhino and owner-run Kenya safari lodges
Kenyan Coast - Famous for beach resorts, water sports and scuba diving
Lake Victoria - Famous for fishing, bird colonies, Crocodiles and restful island lodges
Lamu - Famous 'time warp' island with no vehicles and ancient Swahili Muslim culture
Masai Mara - Famous for wildebeest migration, animals galore and hot air ballooning
Meru - Famous for Born Free 'Elsa' the Lion cub and few visitors
Mt Elgon - Famous for cave dwelling Elephants
Mt. Kenya - Famous for its snow-capped peak next to the equator
Samburu & Shaba - Famous for Camel treks, strange animals and riverside Kenya safari lodges
Shimba Hills - Famous for tranquillity and being close to Mombasa
Taita Hills - Famous for it's treetop Salt Lick Lodge
Rift Valley Lakes - Famous for pink Flamingoes and Rift Valley scenery
Tsavo & Chyulu Hills - Famous for remote Kenya safari lodges and 'Man eaters of Tsavo'