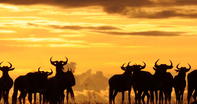 Kenya safari packages and tours let you experience one of Africa's greatest wildlife destinations. See the Great Migration and other Kenya safari highlights.
View Kenya Safari Tours
Kenya safari packages and tours visit the legendary Masai Mara National Reserve - a place where hundreds of thousands of wildebeest gather when the Great Migration passes through, but a place where the wildlife is prolific even when the migration has passed.
For a long time Kenya relied on its reputation as the birthplace of safari but with the rise of safari tourism in Africa the country has once again come to the fore. The mass tourism of the past has been taken over by a more intimate Kenya safari tour experience and this can be seen in many of the new lodges limiting their beds to cater for more discerning guests.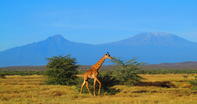 The wildlife attractions of the Masai Mara and Amboseli National Park are well known but there are many more dramatic wilderness areas in Kenya to satisfy even the most demanding guests. In the north the Samburu National Reserve provides the opportunity to see wildlife that may not be commonly seen in other game parks in Africa such as the reticulated giraffe and gerenuk.And then there are the lakes of the Great Rift Valley where flamingoes can be seen in their millions feeding in the shallows. Some freshwater and some soda, the lakes - including Naivasha, Baringo, Nakuru and Natron - provide unique experiences on Kenya safari packages and tours.
Kenya is still one of Africa's greatest wildlife safari destinations
but there is a whole lot more to a Kenyan safari vacation than big game. With an Indian Ocean coastline stretching almost 500 km - a coast of secluded islands, tropical beaches and white sands - Kenya is also one of the best places to combine a beach vacation with your safari.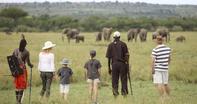 Big game, inspiring landscapes and tropical beaches offers an unmatched Kenya safari packages for families or those wanting intimacy and romance.
Discover Kenya with Siyabona Africa. Our safari tours and packages showcase the regions that have made Kenya the "Out-of-Africa" experience that it is......
more