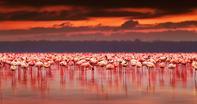 The best time to visit Kenya is about what you want to see and do. Because in Africa, like all the animals, you are tied to the cycles of the climate and the vagaries of changes in the weather.
As with elsewhere in sub-saharan Africa, there is no summer or winter. The seasons are about rain, or no rain. And it is either hot, or fiercely hot. There might even be a few cool evenings.
Kenya's Changing Seasons
January to February: Dry season. The best time to go for game viewing. Also the high season when parks get a bit "crowded".
March to May: This is the rain season. So severe that a few camps and lodges are closed because roads are impassable.
June to October: Short dry season with scattered unpredictable and short lived showers. And another best time to visit Kenya.
November to December: Even hotter and drier, and after your safari - a great plan is to head for the cooler coastal resorts to relax and recharge before going home.
The Best Time for a Masai Mara Safari
Between July and October the Masai Mara wildebeest migration is the showground of Africa. This is when 2.5 million animals pass through in numbers you cannot count. The Masai Mara is a year-round Kenya safari destination, so even if the migration is not your interest, the game viewing is still outstanding.
See what you can Expect on a Masai Mara Safari
In northern Kenya's Meru, Samburu, or Laikipia parks, the best times to visit Kenya for great game is the cooler dry season between
July and October.
The hotter dry season of
December to March,
makes a safari a bit of an adventure to even find wildlife, as the animals are scattered in their search for water.If you are more of a beach person, then late
November to March, or late July to early October
are the best times to be on Diani or Malindi Beach, or out on Lamu Island.
Best Time to Witness the Great Migration
Use this handy guide to see the movement of the Great Migration Maps by month as the wildlife moves between the Serengeti in Tanzania and the Masai Mara in Kenya.
See More Kenya Travel Guide Articles