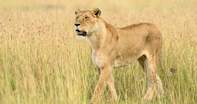 Lion in Masai Mara National Park.
Masai Mara National Park is located southwest of Kenya, and can be accessed by air and road transfers. This Kenya wildlife park is renowned for its large lion population, elephant, leopard, cheetah, and the spectacular annual great wildebeest migration which takes place from July to October. Masai Mara National Park offers one of the best game viewing experiences in all of Africa.
The wonderful roamers of Masai Mara National Park include the African Big Five - lion, elephant, leopard, buffalo and rhino - and other species of game including hippo, gazelle, hyena, jackal, cheetah, and zebra.
The bird population of Masai Mara National includes hornbill, eagle falcons and hundreds of other species. Masai National Park accommodation is in a choice of Kenya safari camps and lodges.
Exciting activities include game drives, bush walking safaris, hiking, bird watching and cultural tours. See below for Masai Mara National Park safari recommendations.