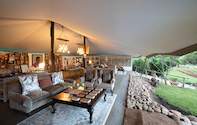 This award-winning Masai Mara safari camp in Kenya is the perfect option for those seeking a deluxe stay with a classic safari feel.
Experience the original spirit of a 1920's safari
Cottar's Camp is a classic Tented Camp in Kenya
In close proximity to Masai Mara and the Serengeti
Game drives conducted in 1920's style safari vehicle
Cottars 1920s Safari Camp experience returns to the original spirit and essence of 'safari', reminiscent of a golden bygone era - an era of romance, adventure and elegance. Here, one will experience the ultimate in personalized service and guiding.
Cottars Safari Camp tradition began in 1919. Over 90 years on, the family continues to provide this unparalleled safari experience to discerning clients from all over the world. Cottar's 1920's Safari Camp has authentic luxury safari tents, each with a canopied verandah. The tents have been carefully arranged to ensure ample privacy. The personalized service provided at this Kenya safari camp will allow you to live your dream Masai Mara safari.
This Masai Mara safari camp lies on the cusp of a forested valley beside a spring with extensive views across three reserves. As the camp is situated in a private concession it provides exclusivity rarely found in the Mara. The Cottar family is synonymous with tradition and operated the very first photographic safari in East Africa in 1919. Cottar's Safari Camp allows you to experience close encounters with wildlife on foot or in a four-wheel drive vehicle.
Cottars 1920s Safari Camp Facilities
Central mess tent with an Art Nouveau bar
Experiential tent highlighting local culture, safari history and crafts
Mobile gin bar in the wooden-bodied safari vehicle
Outdoor and indoor private dining
Library with a fireplace nook
Safari decor and classic explorer equipment
Outdoor safari bath or safari shower
Pool and spa