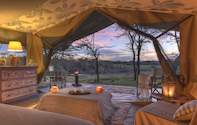 Richard's River Camp is a small, private and exclusive boutique camp located within the wildlife-rich Masai Mara National Reserve in Kenya.
Why We Love it and You Will Too
Richard's Camp is situated on the edge of the private Mara North Conservancy, in a peaceful, scenic location, offering authentic canvas tents with adjoining bathrooms.
The raised viewing deck offers the best vantage point over the permanent Njageteck River which brings in plenty of unexpected bird and animal sightings.
Its game viewing galore at Richard's Camp, especially with the pride of resident lions that can often be spotted hunting close to camp, and calling out to you long into the night.
The dining experiences are second-to-none. Think well-prepared cuisine served up in the most superb settings ranging from the outdoor patio to the traditional boma.
The tracker-guide team consists of highly knowledgeable individuals who will lead you through the reserve on guided 4x4 game drives and immersive walking safaris.

Your Masai Mara Safari Experience
Richard's River Camp reigns supreme with its ultra-private location in the North Conservancy of Kenya's Masai Mara National Reserve. Set on the banks of the permanent Njageteck River, animals consistently stream into the area.
This Masai Mara boutique camp has certainly earned its stellar reputation when it comes to game viewing, and you can expect plenty in the way of safari activities, most notably the guided morning and evening game drives, and expert-led bush walks. What we love most about Richard's River Camp, is that it is small and intimate, and you'll have the opportunity to really bond with your safari guides, who will soon become your close companions during your stay.
When not out exploring the reserve, you can keep up with your bird watching and game viewing whenever you fancy. The camp is filled with plenty of comfy seating areas that will quickly lure you in. Add in a late afternoon G&T, followed by a quick siesta in your tent-style suite and you'll quickly start to feel like the luckiest safari-goer in the whole of Africa.
The accommodation at Richard's is exceptional, crafted from natural wood and canvas, with private viewing decks and sumptuous king-sized beds. The service is top-notch, and the food is the icing on the cake. If you're yearning for an authentic experience in the wilderness, with all the comforts to go along with it, add this camp to the top of your list.