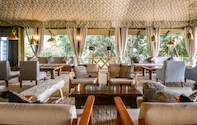 Stay in luxury tented Masai Mara accommodation at Ilkeliani Camp, discover the wonders of the Masai people, see the Big Five and witness the amazing annual Wildebeest and Zebra Migration.
Experience elegant African living at Ilkeliani Camp
Learn about the Maasai people on a cultural safari
The Masai Mara in Kenya offers Big Five game-viewing
Eco-friendly luxury tented accommodation
Shrouded in the mystery of the Maasai people and hidden in the forests of Kenya lies this eco-friendly camp in an intentionally preserved environment. Positioned on the edge of the Talek River, this luxury tented Masai Mara accommodation overlooks the majestic Masai Mara plains.
Personal attention and care is of high importance at this luxury tented camp in Kenya and staff will go to extra measures to ensure that every guest has a wonderful, satisfying and memorable stay.
Ilkeliani Camp allows for flexible meal times so guests do not feel rushed. Everything is done at your leisure. Guests have a say in how they want to spend their days at the camp and the staff at Ilkeliani are always happy to oblige.
With its perfect climate, various landscapes, sweeping plains, diverse wildlife and high quality of facilities and services, this tented Masai Mara accommodation in Kenya offers the safari of a lifetime.
The Masai Mara Game Reserve is a vast area of grassy plains converging by the meandering Mara River. It is an African gem and an area rich in culture, tradition, beauty and home to the Big Five, namely Elephant, Buffalo, Rhino, Lion and Leopard.