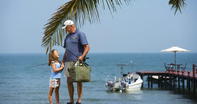 Lake Victoria is situated at the border of western Kenya, in the core of the spectacular African continent. Lake Victoria serves as a source for the majestic Nile River, and is home to a myriad of fish. Air transfers and road excursions gives access to the largest freshwater lake in the world.
The tranquil Lake Victoria is the ideal destination for a cultural tour and a fishing or birding safari. A diversity of fish swim the lake, among them are tilapia, and anglers.
Lake Victoria has a rich and colourful birdlife of over 350 resident and migratory species.
Lake Victoria accommodation in Kenya is at island lodges and activities include fishing, speed boating, lake cruises, mountain biking, bird watching, game excursions and cultural tours.
See below for Lake Victoria, Kenya safaris.
Rusinga Island Lodge is a family friendly Kenya lodge on Rusinga Island on the shores of Lake Victoria. Activities include fishing, watersports, mountain biking, spa, cultural tours and game viewing in Ruma National Park....
more