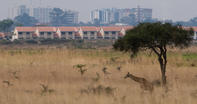 © Shem Compion
The gateway to East Africa, Nairobi in Kenya is a kaleidoscopic urban hub of activity and raw energy. Ambient side street cafes, colourful markets, historical buildings, world class hotels and no rules traffic define what is considered to be one of the largest and fastest growing cities in Africa.
All roads inevitably lead to Nairobi and time spent here will reveal a city of great diversity and contrast. From colonial architecture and museums, an abundant National Park, flower-lined streets, assorted cultures and races, modern shopping centres, beer halls and internationally acclaimed Indian restaurants, Nairobi has it all.
Access to Nairobi is by road and air transfers. Nairobi accommodation in Kenya is offered at luxury hotels.
Activities in Nairobi includes bush walking safaris, shopping at the markets, village tours, go karting, day trips to tourist attractions and elephant interactions. See below for Kenya safaris to Nairobi.