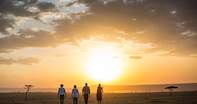 Expected Kenya Safari Vacation Package Experience
Accommodation: Hotels, Lodge & Safari Camp
Activities: Game drives, game viewing, walking, seasonal river safaris, optional Masai Village visit and balloon ride
Destinations: Nairobi, Laikipia / Samburu, Mount Kenya, Masai Mara Reserve,
What you can expect from this 9 day Luxury in the Bush Kenya Safari
Kenya pioneered photography safaris nearly a half century ago, and this northern circuit remains as exciting and productive as it was that long ago. Many numbers of wild game have actually increased, and this is particularly true of elephant. Enjoy some of East Africa's most spectacular scenery in the northern frontier, before ending at Kenya's best game park, the Masai Mara on this Kenya safari vacation package.
Day 1: Nairobi, Kenya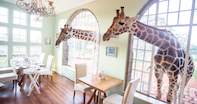 The Kenya vacation package begins in Nairobi, East Africa's most dynamic and colorful city. If you arrive early enough, a number of
sightseeing excursions are available
, including to the famous National Museum, and to the attractions in the nearby suburb of Karen, including Karen Blixen's homestead and Giraffe Manor. True to its name Giraffe Manor attract Giraffes on the premises. They have been known to poke their heads into the dining room - a truly unique experience.
Day 2: Nairobi - Laikipia (Samburu), Kenya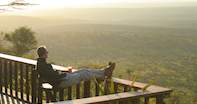 Morning flight into Kenya's northern frontier followed by a Landrover transfer into an
immense private conservation ranch
. The 'Laikipia' region of northern Kenya has become a model for wildlife conservation and sustainable development the world over. Individual reserves, some as large as 100,000 acres, have been protected from rampant agriculture and cattle farming, to protect the natural wildlife and
outstandingly spectacular bushlands
. You'll arrive the luxurious camp in time for lunch, and immediately in the afternoon you begin your many varied activities.
Days 3 - 4: Laikipia
The area is famous for its Elephant
, but this is a fragile and marvellous ecosystem with some of the rarest wildlife on earth. Nowhere else will you find the world's most handsome Giraffe, the reticulated, or the rare Grevy's Zebra. The area abounds with the strange, long-necked Impala known as the Gerenuk, as well as the blue-legged Somali ostrich.
These creatures will be found nowhere else, but you'll also see many of the regulars, including Buffalo, common Zebra, Gazelle, and the great predators on your Kenya vacation package. You'll be shown around by the reserve's owners, all of who take a personal interest in this marvellous area.

There will be opportunities for game viewing and unusual activities, like walking, and possibilities for river safaris and spelunking. Consider this like visiting an American dude ranch, with the distinct difference that you'll be hearing the roaring of Lions at night!
Day 5: Laikipia / Mount Kenya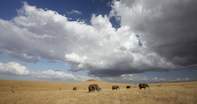 The time it takes to negotiate the back roads of these very remote wildernesses are hard to gauge, so today's schedule will be leisurely. Most of the morning of your Kenya safari vacation package will be spent on the ranch, and in the afternoon you'll make your way back up the escarpment to Mount Kenya.

The evening is spent in the historic splendour of the Mount Kenya Safari Club, the resort created by William Holden and today the site of the famous William Holden Wildlife Foundation. If you arrive early enough, you'll be able to visit the famous Animal Orphanage before the gourmet dinner.
Day 6: Mount Kenya / Masai Mara
Morning flight into Kenya's finest big game reserve, the Masai Mara. You'll arrive in time for lunch in camp, followed by afternoon game viewing. For three nights on your Kenya vacation you'll enjoy the splendor of a very exclusive camp built on the banks of the Mara River, Il Moran.
Days 7 - 8: Masai Mara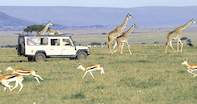 Three game drives are included daily from camp in open Landrovers driven by the country's most experienced guides. The Mara is everyone's dream of Africa comes true: gently rolling grassland plains bisected by a number of great rivers. The area is filled with lion and cheetah, and leopards are often found.

The plains are filled with wildebeest, hartebeest, topi, eland and much more, and the birdlife is incredible. You can visit a Maasai village and book a hot air balloon ride. Each evening you return to the unbelievable splendor of your luxury camp.
Day 9: Masai Mara / Depart
After a full morning of game viewing, fly back to Nairobi, where you'll be returned to your private room at the Norfolk Hotel. Your driver returns in the evening to transfer you to the airport for your departure home. Your Kenya tour package ends here.