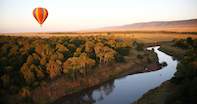 Expected Kenya Safari Vacation Package Experience
Accommodation: Lodge or Luxury Tented Camp
Activities: Game drives in 4x4 vehicles, meals and sundowners in the bush, escorted nature walks (outside the reserve), Optional hot air balloon ride and excursions to a local Maasai village.
Destinations: Nairobi, Masai Mara Game Reserve, Kenya
What to expect from this 4 day Masai Mara Fly-In Safari
Kenya's Masai Mara Game Reserve is one of Africa's grandest wilderness areas. A great variety of wildlife is seen from lion, elephant, buffalo, rhino, hyena, zebra, wildebeest, Thomson's and Grant's gazelle, topi and reedbuck. Opportunities to see the Big Five and the Annual Migration are popular requests from safari travellers visiting the Masai Mara. This superb Masai Mara safari includes return flights, transfers, meals, game viewing in 4x4 vehicles with English speaking guide.
Day 1: Fly From Nairobi to the Mara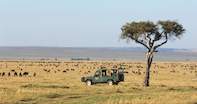 Early morning transfer from your Nairobi hotel to Wilson Airport for the flight to the Masai Mara. On arrival, you will be met and transferred to the lodge for check in and lunch. Lunch is followed by a late afternoon game viewing drive. Return to camp for sunset drinks and dinner.
The Mara is a spectacular expanse of open grassland which covers 1,510 km² in the south-west corner of Kenya. The tree-lined Mara River has a healthy population of hippos and crocodiles. The crocodiles are most active during the Mara River crossings of the great migration.
Wildlife roam freely throughout the vast Masai Mara Ecosystem. There are no boundaries or fences to obstruct the movement and migration of animals. The Masai Mara and the Serengeti effectively form a continuous ecosystem and jointly host the annual spectacle of the migration.
Each year, normally in August and September, the Mara plays host to the most
spectacular Wildebeest Migration
. Millions of ungulates move across the plains in an endless stream. Watching this vast herd move with the predators that follow them is fascinating. Thousands of wildlife documentaries and photographs bear testament to this amazing phenomenon and reserve.
Day 2 - 3 : Explore the Masai Mara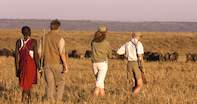 There is an option to enjoy a hot air balloon ride and float across the savannah plains above herds of wildlife. Watch the sun rise over the horizon and after an hour flight (with ample opportunities for photography and video filming); enjoy a tasty bush breakfast before a return game drive back to camp. The Maasai are a proud semi-nomadic cattle-rearing people with a fascinating culture. Meet the local Maasai community on a visit to a local school and village (manyatta).
Feel the wilderness, smell the air and experience the thrill of seeing wildlife on foot. Guided game walks are conducted in the company of Maasai guides at a comfortable pace. The guides will also provide a wealth of information on the traditional medicinal uses of plants and Masai folklore. Walks can be taken either in the morning or afternoon, and take around 1½ to 2 hours.
Day 4: Depart Mara to Nairobi
Enjoy a final early morning game drive. After breakfast, transfer back to the airstrip for the scheduled flight to Nairobi, where the your Masai Mara fly-in safari ends.