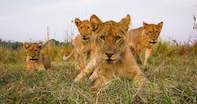 Expected Kenya Safari Vacation Package Experience
Accommodation: Camping
Activities: Game viewing, game drives
Destinations: Nairobi, Great Rift Valley, Masai Mara Reserve
What you can expect from this 3 day Masai Mara Camping Safari in Kenya:
Your 3 day Masai Mara safari starts in Nairobi, travels through Kenya, and finishes back in Nairobi. Game drives on this 3 day Masai Mara safari in Kenya will allow you to search for game such as Lion, Cheetah, Elephant, Buffalo and many more. You will also get to see Kenya's spectacular Great Rift Valley, home to about 30 active and semi-active volcanoes and many hot springs.
Please note that this trip departs Nairobi daily, early morning. Should you wish to spend extra time there, an earlier arrival should be planned and additional accommodation should be booked through Siyabona Africa.
Day 1: Nairobi to Masai Mara, Kenya
Your Masai Mara safari in Kenya departs at 09:30am, traveling through the Great Rift Valley and the town of Narok to the
Masai Mara Game Reserve
in south western Kenya. You arrive at your campsite in the late afternoon. Dinner is included.
Day 2: Masai Mara, Kenya
Your day is spent enjoying
extensive game viewing
and exploring the beauty and diversity of the reserve. The Masai plains offer an abundance of wildlife, including well known predators, Wildebeest, Zebra and Gazelle in the midyear migration. Breakfast, lunch and dinner is included.
Day 3: Masai Mara to Nairobi, Kenya
Today you leave the Masai Mara and travels via the northern part of the Masai lands for some excellent game viewing before passing through Narok on your way to Nairobi, where you
Masai Mara safari in Kenya
ends. Breakfast is included.