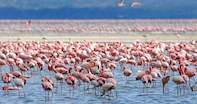 Expected Kenya Safari Vacation Package Experience
Accommodation: Camping
Activities: Game drives, game viewing, visit the Flamingos at Lake Nakuru, optional forest walk
Destinations: Nairobi, Mount Kenya, Samburu Reserve, Thompson's Falls, Kenana, Lake Nakuru National Park, Masai Mara Reserve
What you can expect from this 9 Day Kenya Highlights Safari
The spectacular Rift Valley, with the wide-open plains of east Africa is stretched before you. On this stunning Kenya safari tour you can spot beautiful pink Flamingos and take in some of the very best of Kenya's Big Five game viewing National Parks and its�tribal people and scenery.
Day 1: Nairobi, Kenya
On the first day of this
Kenya Highlights safari
, all clients should meet for a pre-departure meeting at 08h30. This meeting will give you all a chance to meet your fellow travellers and get to know your guides. A representative will meet and assist you with your overnight accommodation in Nairobi.
Day 2: Nairobi - Mount Kenya
You head out of the city and travel north to your campsite at the foot of Mt Kenya (5199m),
the second highest mountain in Africa
. You have the afternoon free to enjoy an optional walk in the forest around the base of Mt Kenya, known for its prolific bird life and black and white Colobus monkeys. Camping (Mountain Rock Bantu Lodge or similar). Lunch and Dinner.
Days 3 - 4: Samburu National Reserve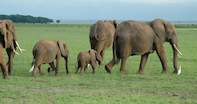 Samburu National Reserve is situated on the banks of the Uaaso Nyiro River in Kenya. This means plenty of water, trees and shade to attract wildlife like Elephant, Lion, Giraffe and Zebra from the surrounding savannah plains. Leopards are also regularly spotted. The Uaaso Nyiro River's magnificent displays are the long and huge Crocodiles, which exceed 6 metres (20 feet) from snout to tail.

You will enjoy a game drive en route to your campsite and on day 4 of your Kenya safari tour you will depart on a morning game drive and return to camp for lunch. In the afternoon when the temperature cools off you head out for an afternoon game drive returning in time to prepare dinner. Accommodation for the night will be camping. Breakfast, Lunch and Dinner.
Day 5: Thompson's Falls
On day 5 of your Kenya safari you will travel to Thompson's Falls and arrive at approximately lunch time - you have the afternoon free to explore the waterfalls which during the rainy season is particularly spectacular. The height of
the falls is 75 metres high
. Camping in Thomson Falls Lodge. Breakfast, Lunch and Dinner.
Day 6: Lake Nakuru and Flamingos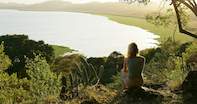 On day 6 of your Kenya safari tour you depart for your campsite, on the Kenana Farm. Visit the Kenana Knitters, a local community development project, or the local school. You will visit Lake Nakuru National Park, which is famous for the presence of up to 2 million Flamingos, seasonally feeding on the abundant algae.

The park is also well known for its Leopard and, as it is a Rhino sanctuary, sightings of Black and White Rhino are common, as well as Lion and Buffalo. You enjoy an included game drive into the Park on this Kenya vacation. Camping (Kembu Campsite or similar). Breakfast, Lunch and Dinner.
Days 7 - 8: Masai Mara National Reserve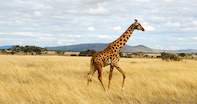 The famous Masai Mara Game Reserve is known for its density of animals including the 'Big Five' and
453 species of birds
. It is one of the most visited reserves in Africa. This National Reserve's plains are predominantly open savannah, interspersed with patches of acacia woodland, and along the Mara River, riparian forest. Whilst game viewing is excellent in the Mara all year round, the most popular time to visit is in late July into August where, over one million Wildebeest and hundreds of thousands of
Zebra migrate from the Serengeti
. The dramatic river crossings are a gruesome spectacle of survival of the fittest.
You will set up camp here for two nights and enjoy early starts, for your game drives, returning to camp for a late breakfast or brunch. Time to reflect and relax for the hotter part of the day and then out for another game drive in the afternoon.
You will enjoy the last night of your Kenya safari tour with a dinner around the campfire, listening to the sounds of the open bush. Camping will be outside Sekenani Gate or similar. Breakfast, Lunch and Dinner.
Day 9: Masai Mara to Nairobi
You will 
enjoy a hearty breakfast,
before you break down your camp and head back to Nairobi arriving around lunchtime, where your tour ends. Breakfast. End of your Kenya highlights safari.