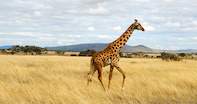 The Maasai Mara is great for a family safari in Kenya. Children will love the pink Flamingos on Lake Nakuru or Lake Naivasha or the sighting of Elephant, Giraffe and other African wildlife in stunning scenery.
Expected Safari Experience Overview
Accommodation:Hotels, Luxury tented camps
Activities: Nairobi city tours, game drives, Jane Goodell chimp sanctuary, Maasai cultural village
Destinations: Samburu National Park, Mt Kenya, Lake Nakuru, Lake Naivasha, Masaai Mara
What you can expect from the 8 day Taste of Kenya Safari Tour
Kenya's four most popular game parks in the classic northern circuit. Excellent family accommodation. Explore Kenya's best wilderness, the Maasai Mara. A remarkable family holiday with a great variety of scenery and habitat.
Day 1: Nairobi
On arrival you and your family will be personally met and taken to your first accommodation option in Kenya. For those arriving earlier, a variety of local sightseeing attractions can be pre-booked.
Days 2 - 3: Samburu National Park
A dramatic morning flight from Nairobi skirts the glaciers of Mount Kenya and then plunges to land on Kenya's near desert Northern Frontier. The great Ewaso Nyiro River cuts through the desert in Samburu National Park, and the surrounding veld blooms, attracting large amounts of game.

You and your children will be happy to spot Giraffe, Elephant, Lion or smaller antelopes and the Grevy's Zebra. Enjoy beautiful bird life. After so much excitement, sit down with your loved-ones and have a delicious meal at your family accommodation.
Day 4: Mount Kenya
Leave the lowland veldt and drive up Mount Kenya, past colourful traditional villages. Arrive at your accommodation for lunch and go on an afternoon safari, including a visit to the Jane Goodell chimp sanctuary. This evening you can book an optional night safari.
Day 5: Lake Nakuru - Lake Naivasha
Leave the highlands for a beautiful morning drive that crosses the Equatorial Line and arrives Lake Nakuru National Park for a mid-day game drive. The park is famous for its tens of thousands of Flamingos, Rhino and Rothschild Giraffe. In the afternoon, you travel to another gorgeous Rift Valley Lake in Kenya, Lake Naivasha. Here, you can relax and enjoy dinner with your family and overnight.
Days 6 - 7: Maasai Mara
The drive into Kenya's best park, the Maasai Mara, is truly spectacular. Arrive with your family at your Masaai Mara accommodation for lunch. Then start 2 days of intense game viewing. The Mara has all the big game in abundance, including the Black-Maned Lion, Cheetah and Leopard, and plains full of Gazelle and antelope.
There will be time to see a Maasai village and even book an optional game walk. Enjoy this Masaai Mara family safari to the fullest.
Day 8: Nairobi - Depart
A quick flight brings you all back to your accommodation in Nairobi. The afternoon is free. If you wish to return home on an overnight flight at the same evening, you and your family will be returned to the airport in time to begin your journey home. Others can independently enjoy Nairobi's wide range of excellent dining.