Sossusvlei and Namib Desert | Namibia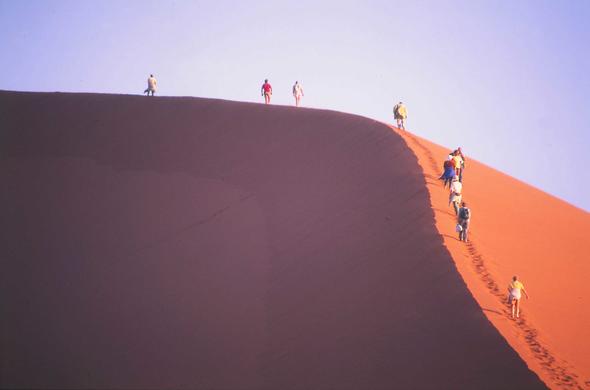 Sossusvlei's rich orange sea of sand dunes is one of the most astounding sights in the world. They are the highest sand dunes in the world.
Photo: Leigh Kemp
The feminine curves and angular crests rise tantalizingly to almost 1,000 feet (305metres) - much higher than their nearest rivals in Arabia. They just beg to be climbed barefoot and the sheer size and immensity of the dunes dwarf your footprints. The older the dune, the brighter the color from slow iron oxidization and a zillion minute fragments of garnets. These dunes range from burnt orange through blood red to deepest mauve, and geologists say that this supreme desert could be the oldest in the world. In
the Nama language
, 'Namib' means 'vast', and the Namib Naukluft Park lives up to this reputation.It extends for about 300 miles (480km) along Namibia's coast and reaches deep inland. Contrary to appearances, an
amazing variety of wildlife
has adapted to live in this inhospitable place. There are lizards who only put two feet down at a time and a beetle who leans forward to make droplets of dew run down grooves in its body to its mouth. Apart from infrequent rains, these creatures rely on a regular sea mist that rolls far inland.Visiting this remote region takes some perseverance, as it is almost 200 miles (320km) from any main high road, so a
fly-in safari
is a good option. The trip is worth it as the solitude is immeasurable, and your place in the great scheme of life takes on a new perspective. The desert night sky is just awesome and you are guaranteed to see shooting stars every few minutes and satellites tracking a path across the heavens. Some lodges even have rooftop stargazing platforms for a night under the stars.
Safari Lodges of Sossusvlei & The Namib Desert
Kulala Desert Lodge
Kulala Tented Camp
Sossusvlei Wilderness Camp
Sossusvlei Mountain Lodge
Wolwedans Dunes Lodge
Climate
The Namib desert has low rainfall and high evaporation and is classified as 'hyper-arid'. It is responsive to even
small amounts of rain
and a few millimetres can produce a miracle. Fields of beautiful yellow flowers on a carpet of green leaves suddenly appear, but are accompanied by 'little devils' - prickly thorns. Dry tufts of perennial grasses produce new shoots and ephemeral (short-lived) plants appear as if by magic and all replenish the seed bed. The daytime temperatures remain fairly constant throughout the year, averaging 30°C (86°F).
Summer:
Rain is erratic and unpredictable but is expected in late summer from February to April. There can also be
early showers in December
and January. Over a ten year record there was an average of 63 mm of rain per year, most of it falling in December, March and April. Temperatures and evaporation are high, and only at times of considerable rainfall do the pans fill with water to create an astonishing desert oasis.
Winter:
Winter days are bright, clear and warm averaging 25°C (77°F), but the night temperatures fall dramatically and can drop below freezing. The coldest months are June, July and August.