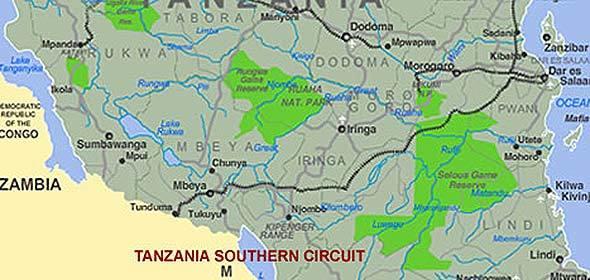 Southern Tanzania Safari Circuit
Southern Tanzania is the
ultimate definition of a wilderness experience
, an area home to some of the purest remaining tracts of bush in Africa boasting a few select national parks and reserves.
Tanzania's southern parks offer the real bush experience without the tourist minibuses. Most of the accommodations are in the high-end of the price range, because they are intimate and cater to small groups.
Southern Tanzanian camps
offer a variety of different ways of seeing the wildlife - Boat safaris, walking safaris, sleeping out under the stars are just some of the activities that on offer.
To reach most of the
southern national parks
, a flight on a small aircraft is necessary. Fly-in safaris are popular, using light aircraft to fly between the parks and camp. Flying allows quick access to the remote camps, and scheduled aircraft run frequently. Once at the camps, guides will use 4WD vehicles and boats to get you around the parks.
Amongst seasoned safari goers, names such as
Selous, Katavi and Ruaha
evoke awe and respect and the beaches and coastline of Southern Tanzania are either world-famous or unexplored. In simple terms, the south is about the remote location, small intimate bush camps and the incredible wilderness adventure.
Best time to visit the Southern Tanzania Safari Circuit:
The best time to visit parks in Southern Tanzania is during the dry season (June - November) as the roads are passable and it is possible to drive around. The game is also more concentrated around the rivers, making it easier to spot wildlife.
Parks and Reserves in Southern Tanzania
Selous Game Reserve
Selous is Africa's largest reserve, a world heritage site, and you can often spend a whole day being driven around without seeing another vehicle. You will see elephant, buffalo, zebra, cheetah, lion, leopard, hyena, black rhino, impala, wildebeest, African wild dogs, hippos and crocodiles. Over 440 bird species have been recorded in the Selous Reserve. The Selous' lakes and channels offer excellent boat safaris and walking safaris are also very popular here. Night drives are allowed in the Selous Game Reserve.
Ruaha National Park
Ruaha is remote, large, and has the largest elephant population of any Tanzanian national park. Dramatic scenery includes rolling hills, large open plains, groves of baobabs and the Great Ruaha River. During the dry season you will witness spectacular game viewing along the river. Prolific game includes species which are widespread to the south - like buffalo, zebra, Defassa Waterbuck, impala, giraffe, Lichtenstein's hartebeest, roan and sable antelope. Ruaha is one of the few places where you can see both greater and lesser kudu. Ruaha's birdlife is excellent with over 520 species have been sighted in the park. Keen bird-watchers should visit Ruaha from mid-November to March, when migrant birds are sighted.
Mikumi National Park
Mikumi National Park is very accessible from Dar es Salaam and is a good stop over point if you are travelling to Selous or Ruaha. Mikumi National Park borders Selous and shares its abundant wildlife including lion, giraffe, buffalo, eland, African wild dog, elephant, zebra, wildebeest and many more. The open horizons and abundant wildlife of the Mkata Floodplain can be enjoyed on game drives and guided walks.
Add-ons to the Southern Circuit
Udzungwa Mountains National Park is a two hour drive from Mikumi and is famous for its endemic plants and animals. The Iringa red colobus and Sanje Crested Mangabey are only found in Udzungwa. An excellent network of beautiful forest trails is a magnet for hikers.
Saadani National Park is a great combination of bush and beach. Situated on the Indian Ocean, Saadani is accessible from Dar es Salaam by road or by charter flight. Boat safaris and walking safaris are popular and you will see lion, elephant, giraffe, buffalo, warthog, hippo, crocodiles, greater kudu, eland, sable antelope, yellow baboon and vervet monkey.
Zanzibar: The Zanzibar Archipelago consists of over 50 islands and the best known island is Unguja or Zanzibar. It is very popular to visit one of the islands after completing a safari. Stone Town, a labyrinth of narrow alleys with palaces, mosques, and shops is a UNESCO World Heritage Site. The beaches on the islands have powdery white sand, shaded by palm trees. The sea is shallow and tropical, and the reefs are great for snorkelling and diving.