Sussi and Chuma Zambezi Adventure
This deluxe 4 day Zambia safari adventure takes you to the treetops of Sanctuary Sussi & Chuma Lodge on the Zambezi River, where you will be introduced to the region's natural wonders.
Zambia Safari Vacation Package Highlights
Accommodation: Tree-houses with en-suite bathrooms and private viewing decks
Activities: Game drives, canoeing on the Zambezi, tour of the Victoria Falls, walking safari, sundowner cruise and local village tour
Destinations: Livingstone, Mosi-Oa-Tunya National Park, Livingstone
What you can expect on this 4 day Zambezi safari
During your 4-day safari in Zambia's Mosi-Oa-Tunya National Park, you will encounter African wildlife like never before during the various excursions that have been designed to introduce you to the untamed bush. Day trips to the local village and the famous Victoria Falls will grant you cultural enrichment as well as historical insights into the world-renowned natural wonder.
A stay in the lodge's tree-house with a private viewing deck is the ideal accommodation for couples to enjoy an adventurous Zambia getaway. Spectacular views of the Zambezi River and the ebony trees in the lush vegetation will take your breath away.
Game drives will introduce you to the wild African bush where fantastic encounters with wildlife can be expected, though it is important to note that no two game drives offer the same sights. Paddle a canoe down the majestic Zambezi River or enjoy a tranquil boat cruise while watching the sun set. Indulge in delicious meals served by an outstanding staff that will provide you with all your creature comforts to complement your comfortable suite.
Day 1: Livingstone Airport
View Lodge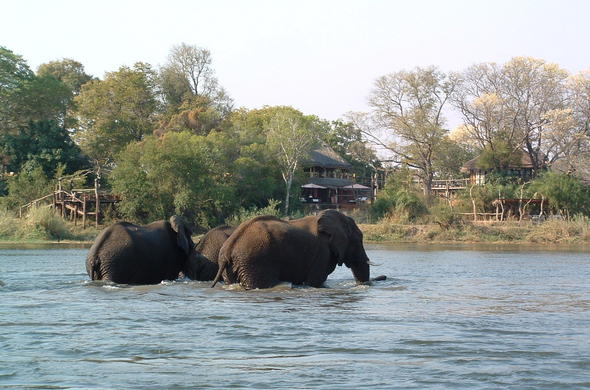 Upon arrival at Livingstone Airport, now known as Harry Mwanga Nkumbula International Airport, you will be welcomed to Zambia by a representative who will escort you on a road transfer to Sanctuary Sussi & Chuma, named after two of explorer David Livingstone's friends. As you enter the Mosi-Oa-Tunya National Park, absorb the natural sights, sounds and smells of the bush. The lodge is nestled on a bend in the Zambezi River, affording spectacular views of the famous river and its lush vegetation.
Settle into your tree-house suite and enjoy the modern amenities provided by this Zambia safari lodge. From your private deck you have exceptional views of the Zambezi River and elephants frolicking in the water is not an uncommon sight. After you have had some time to relax, enjoy your first game drive in an open 4x4 safari vehicle with a trained safari guide. Game drives take place in the Mosi-Oa-Tunya National Park and common wildlife sightings include elephant, giraffe, buffalo, zebra, baboon, and the river residents, hippo and crocodile. Bird species in the park are also abundant. Your safari will be concluded with sundowners and canapés in a remote spot in the bush, admiring the magical African sunset.
Day 2 & 3: Mosi-Oa-Tunya National Park
View Lodge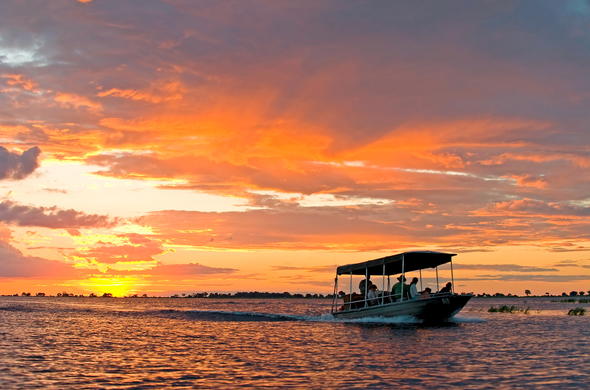 For the next two days of your Zambezi adventure you have a wide range of activities to choose from including a walking tour of the mighty Victoria Falls and a cultural experience visiting the local Nakatindi village. Locally, the Falls are known as Mosi-oa-Tunya ("the smoke that thunders"), and were introduced to Europe as the Victoria Falls by explorer David Livingstone.
Other activities to choose from include a two-hour canoeing excursion on the Zambezi River. As you paddle your way across the horizon, absorb the tranquility of the water as you view the landscapes of Zambia.For more wildlife encounters participate in a walking safari, game drive or a sundowner cruise on the Zambezi river. After cruising through grade 2 rapids and enjoying light sprays on your face, the boat will stop on the beach for a sundowner cocktail, in full view of the spectacular sunset.
After a long day of exploring, why not relax during a visit to the safari spa for some pampering treatments? In the evenings when you return to your safari lodge, freshen up before you make your way to the main lodge area to enjoy pre-dinner drinks at the raised bar area. Delicious meals will be served in the open air dining area, comforted by the warmth of a blazing campfire. Enjoy leisurely evenings outdoors in admiration of the canopy of stars, before returning to your luxurious tree-house.
Day 4: Livingstone Airport
Wake up to the sounds of an increasingly active bush life as you prepare for a final game drive safari in the Mosi-Oa-Tunya National Park. After breakfast bid farewell to the Zambezi River and photograph the spectacular landscapes one last time as you are transferred to Livingstone to meet your onward travel arrangements.