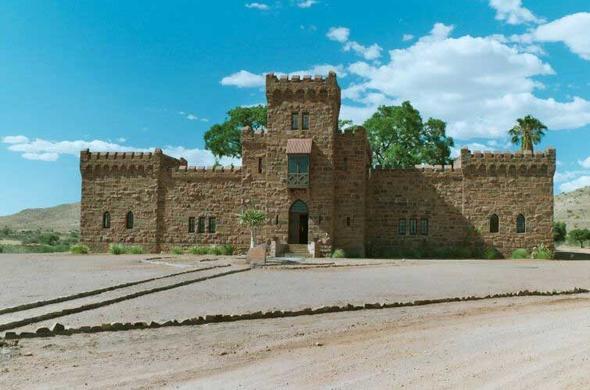 © Duwisib Castle
Positioned in the southern reaches of the Namib Desert on a hill overlooking all that surrounds it, Duwisib Castle is one of Namibia's more fascinating landmarks.
On a boiling hot day in the middle of August, we found ourselves driving along the D826 road from Sesriem towards Helmeringhausen and almost stumbled onto the fascinating landmark that is Duwisib Castle, 72 kilometres (44.7 miles) from Maltahöhe in Namibia.
Built in 1908 by Hans Henrich van Wolf, the pseudo medieval fortress sits on top of a hill off of a dirt road and simultaneously stands out and blends in to its landscape. Von Wolf was a captain in the Schutztruppe and a member of the Saxon noble family.
He was sent to Namibia (known then as German South West Africa) in 1904 where he fought in numerous battles including the Nama-Herero uprising in 1907. After the uprising von Wolf returned to Germany and married Jayta Humphreys before deciding to settle in Namibia.
The newly married von Wolfs purchased either farms in the Maltahohoe area and commissioned Willi Sander, a well-known architect to design and construct the building. The design was modelled after some of the existing forts already found in Namibia.
The construction commenced in 1908 with most of the materials being produced in and then imported from Germany. Stone masons from Italy, Sweden and Ireland all worked on the stones for the castle.
Baron von Wolf returned to Germany in 1914 to fight in World War 1 and was killed two years later in 1916. Lady von Wolf never returned to Namibia (South West Africa) and in 1937 the farm was sold to the Duwisib Pty Ltd.
Today, visitors can explore most of the 22 rooms of the castle, relishing in its cool interior.
The castle was built with extra thick walls and a central fire place to ensure the whole building stayed cool in summer and warm in winter. The castle now houses a collection of 18th and 19th century armour, paintings and antiques and has a quaint central garden that is quite picturesque.
by Katie Edge