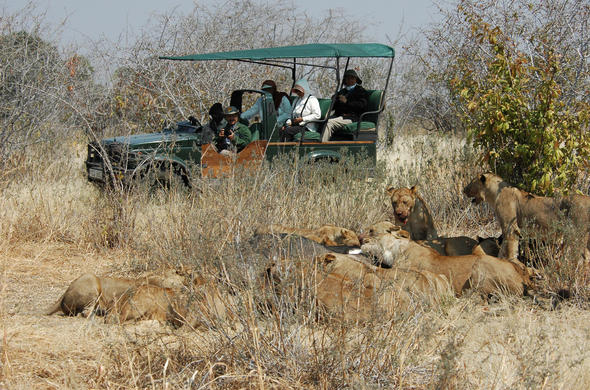 © A lion-kill almost on your doorstep at Ruaha River Lodge
Some years ago I was sitting around a campfire with guests and discussing the safari areas of Africa when one of the guests asked where Africa's best kept secret and 'next big thing' were.
In Africa there's a secret hide away
There are few places in Africa today where one can feel to be the first to visit the area as most of the safari destinations in Africa have been sterilized by the new ideal of luxury that has crept into the consciousness.
This luxury enjoys a bigger emphasis than pristine wilderness experience. Safari operators today invite visitors to find their souls or to 'feel the earth' whilst looking for the Big 5, and charge vast sums for the privilege. Wildlife sightings are guaranteed and massages await the guests after the hardships of driving around for a few hours.

This concept has resulted in many African connoisseurs reaching for their maps to search for an alternative. The concern is that the wilderness areas of Africa have all been taken over by the new ideal. Thankfully this is not the case as there are still a few untouched areas to experience. Although luxury has been introduced into these areas, the sense of true wilderness pervades the senses.
Southern Tanzania is Africa's greatest secret and is waiting to be discovered.
Southern Tanzania: Why only now

To answer the question as to why such areas are only coming to the fore now - Tanzania has always relied on its iconic northern circuit to carry its tourism and as it was a poor country was not able (or thought it unnecessary) to develop the southern parks. With its present economic growth comes a growth in tourism and the opportunity to develop new areas.